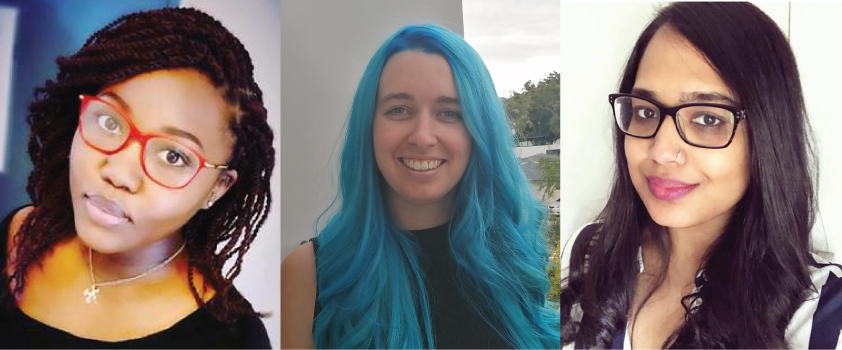 05 Nov

Meet the women of SANSA

SANSA's Human Capital Development (HCD) bursary programme has been put in place to allow for the professional development of staff or students by providing them with monetary assistance in the form of bursary funds. These funds are linked to areas in SANSA or elsewhere in the public sector that need to be developed for the purposes of future sustainability.

Awareness of the HCD bursary programme is created through SANSA's attendance at university career fairs, engagements with various external stakeholders as well as posts on SANSA's social media platforms.

In this edition of our newsletter, we'd like to introduce three of the bursary programme's amazing female alumni, all of whom are achieving great things!

Mpho Bogatsu is a GIS and Remote Sensing Analyst who obtained her MSc degree from the University of the Witwatersrand after being awarded a bursary by SANSA. She forms part of the GIS technical team at the Research Institute for Innovation and Sustainability (RIIS). Her work includes collecting and processing data, developing GIS models for industry sectors, designing research approaches, and analysing information to produce insights and advice for an array of stakeholders.

Ashley Nel is currently working back her SANSA undergraduate bursary as a Junior Software Engineer at Altron Systems Integration. Her core focus is on Amazon web services. Ashley started with Altron in March 2020 and her 'work-back' will be completed in March 2023. After that, she is keen to work as an applications engineer or something similar in a space sector.

Having completing her bursary-funded tertiary studies, Meryl Jagarnath is now employed by the University of Cape Town as one of the university's 'nGAP' (new generation of academics programme) lecturers. Meryl lectures on topics related to the Environmental Health Division, the School of Public Health and Family Medicine and the Faculty of Health Sciences. Her long-term plan is to progress in the field of academia.
How does the Human Capital Development bursary programme work?
SANSA receives their funding through the DSI and must adhere to selection and bursary award criteria stipulated in the funding agreement.
SANSA has a specific mandate and its mission and vision are to integrate national space capability that responds to socio-economic challenges in Africa as well as provide leadership in unlocking the potential of Space for the advancement and benefit of humanity.
SANSA looks at specific research areas and bursary funding is only made available within the science, technology, engineering and mathematics
Readers can find out more about SANSA's bursaries here.