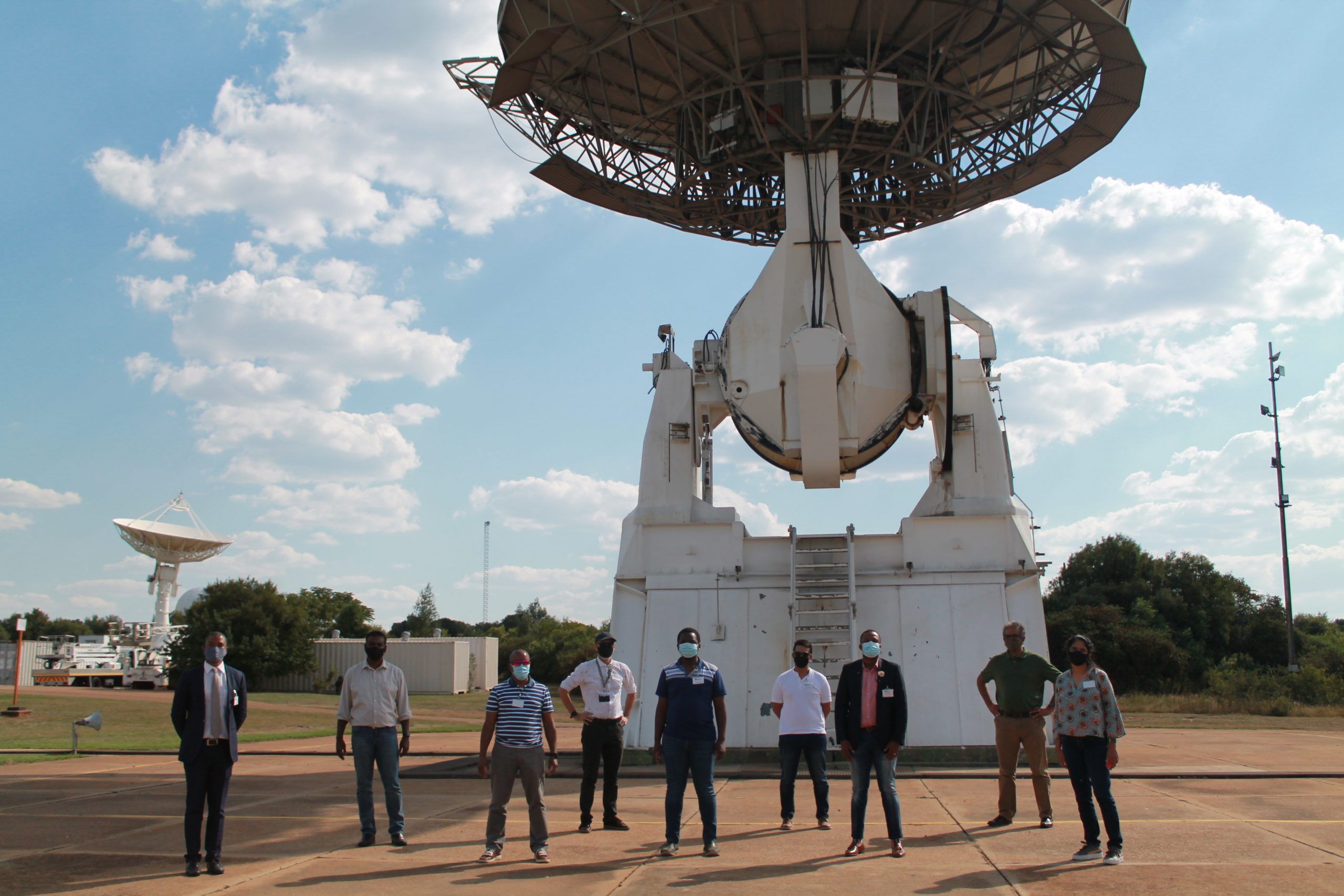 17 Apr

Public sector collaboration for the benefit of society

CDC and SANSA delegation explored collaborative opportunities
On 16 April, the South African National Space Agency hosted the state-owned company, Coega Development Corporation (Pty) Ltd (CDC), at the SANSA Space Operations facility nestled in the tranquil scenery of Hartebeesthoek.
The engagement follows an expression of interest between the two parties to identify opportunities for collaboration earlier in the year. The high-level delegation of the CDC, led by CEO Mr Khwezi Tiya were hosted by the CEO and executive team from SANSA and involved discussions about future programmes and projects the organisations would be involved in as part of deepening the capacity of the state and leveraging from state institutions with extensive experience, like the CDC, in implementing complex and mega projects in infrastructure development and various service delivery initiatives.
At the visit, both organisations explored areas of potential collaboration as a foundation of creating a symbiotic relationship with a view of enhancing state driven programmes. The visit, which culminated in the signing of a Memorandum of Understanding (MOU) by the two CEO's – Dr Val Munsami, CEO of SANSA stated, "As part of Government's strategy of enhancing impact for our citizens, partnerships of this nature will enable strengthened and joint focus on outcomes aligned to our mandates."
With the CDC CEO, Khwezi Tiya, also highlighting the importance of leveraging from the experience of both organisations. "As the CDC, we are hoping this partnership, will lay the foundation for greater things to come."
"Our visit today marks the beginning of a relationship that stretches the imagination to greater heights." We are hoping, our experience in infrastructure development and project management will not only, be beneficial to SANSA, but rather greater society at large," concluded Mr Tiya.
The MoU affirms the value of collaborating and forming partnership in pursuing areas of common interest for mutual benefit of each Party and the citizens of the country.
As SANSA progresses the project planning for the Space Infrastructure Hub, partnerships with organisations such as the CDC, that have experience and skills with large scale infrastructure projects, will support the contribution towards growth of the South African economy.
The CDC took the opportunity to undertake a site visit of the facility that houses over 40 antennae used for tracking, monitoring and supporting satellites and launches as well as the download of satellite data for Government and international clients.
SANSA Space operations will be hosting, for the first time by an African country, the SpaceOps 2021 from 3-5 May 2021. This will provide the international space market a glimpse into the state-of-the-art capacity and capability offered by SANSA.