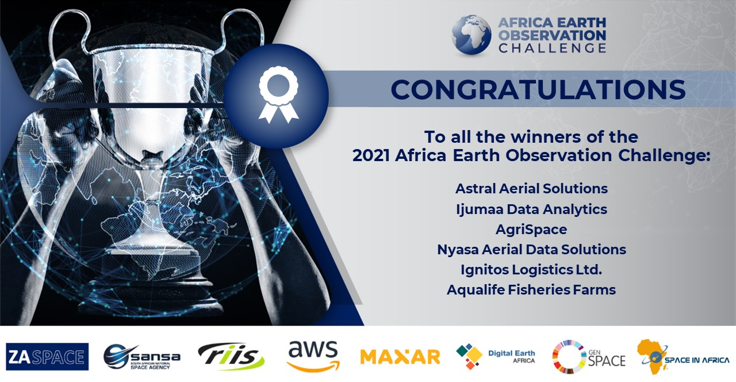 07 Dec

Africa Earth Observation Challenge announces the winners of the 2021 challenge.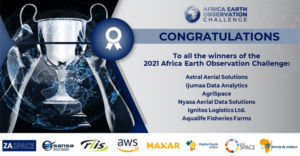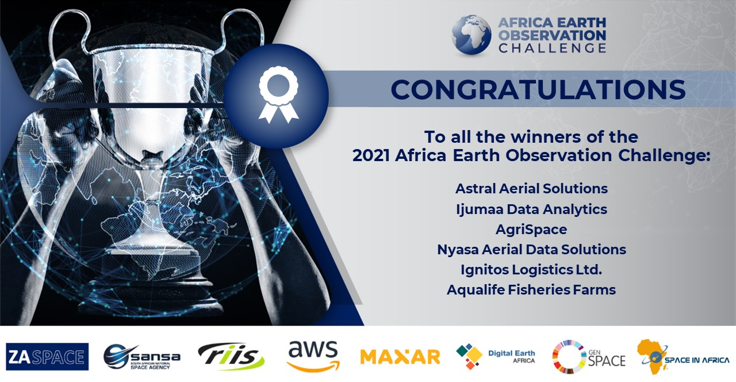 Africa Earth Observation Challenge announces the winners of the 2021 challenge.
The Africa Earth Observation (EO) Challenge was launched 14 weeks, with aim of promoting awareness of the value of earth observation data (EOD), driving entrepreneurial activity in the African space industry, and sourcing novel space technologies in various industries, from across the African continent. We received a total of 57 entries across 17 countries in Africa and this figure came down to 10 finalists pitching at the grand finale hosted on Thursday the 11th of November 2021. The finalists presented their innovative solutions and received deliberation from prestigious judges, Alex Fortescue, Africa Senior Manager at Maxar Technologies, Shanti Reddy, DEA Senior Partnership and Implementation Manager at Digital Earth Africa, Tom Soderstrom, Director of Chief Technologists at Amazon Web Services (AWS), Imraan Saloojee, Chief Sector, and Business Developer at South African National Space Agency, Earth Observation, Stephen Reckie, Executive Director at GEN Space and Co-founder of Angelus Funding LLC, Janusha Singh, Non-Executive Director at ZASpace and Owner of Wanscan Consulting cc, and our Master of Ceremonies, Davis Cook, Chief Executive Officer at RIIS, Non-Executive Director at ZASpace, and Karman Fellow.
We are excited to announce the winners for the 2021 Africa Earth Observation Challenge are:
1st place: Astral Aerial Solutions
Astral is a drone technology company that uses drones to carry out key enterprise functions. In agriculture, they support farmers by providing them with actionable data showing farm health status. The same data is leveraged for precision spraying in farm locations that require mitigation. Using machine learning, farm data assessment is automated to give additional insights like yield prediction.
2nd place: Ijumaa Data Analytics
Ijumaa is company that specializes in using machine learning for mapping and providing technology that allows companies not only access satellite imagery but also pre-processed models that cater for feature extraction and change detection in the Forestry industry.
3rd place: AgriSpace
AgriSpace is a precision farming service, which can best be defined as the application of modern information technologies to provide, process, and analyse multi-source data of high spatial and temporal resolution for decision-making and operations in the management of crop or livestock production.
4th place:
Nyasa Aerial Data Solutions
Nyasa Aerial Data Solutions (NADS) Ltd. is a Malawian technology company that specializes in using drone technology, satellite data processing, and data sciences, to accelerate different programs and explore innovative use of satellite technologies to support community programs not limited to but including climate change.
Ignitos Logistics
IGNITOSpace is a company specialising in the use of big data technology to democratize satellite and earth observation data, to improve the economy through precision farming, climate change monitoring, disaster mitigation, and land and water resource management.
Aqualife Fisheries Farms
Aqualife Fisheries Farms is an aquacultural fish breeding farm which uses earth observation data for forecasting and monitoring of breeding conditions, to improve fish production for meat and commercial purposes. This is in response to the increase in the demand of African catfish within African countries as it is the most cost-effective alternative protein sources food which many can afford.
We are very pleased to have made this a worthwhile experience for all our winners and we would like to thank them for their time, effort, and participation in the challenge. You are all doing an incredible job and we are humbled to be a part of this journey.
Thank you to our media partners, Space in Africa, who have been supporting us through this journey. Space In Africa will be featuring the winners on their platforms.
Contact Information:
Project manager: lindokuhle.simelane@riis.co.za
Media: palesa.nkonyane@riis.co.za