05 Nov

Programme Management Office launched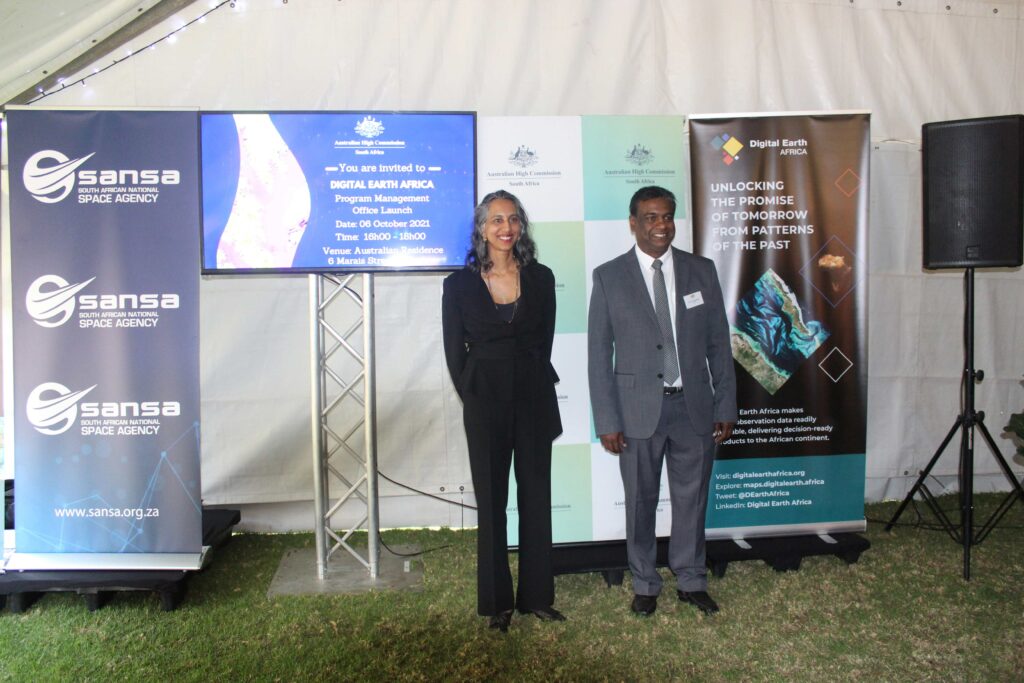 "SANSA has shown a strong history of utilising Earth observation data for the benefit of our people and now through the Digital Earth Africa programme office, we can offer even more solutions to our fellow Africans. The team at SANSA and Geoscience Australia are incredibly excited and proud to be able to make a meaningful contribution."
With these words Andiswa Mlisa, Managing Director of the SANSA Earth Observation Programme and Chair of the Digital Earth Africa Technical Advisory Committee, launched the Digital Earth Africa's Programme Management Office (PMO).
SANSA, in partnership with the Australian High Commission and Geoscience Australia, launched the establishment of the DEA PMO in South Africa on 6 October 2021.
The milestone was marked by a launch event, hosted by the Australian High Commission in Pretoria during World Space Week, with members of the diplomatic community, government, scientists and researchers in attendance.
"SANSA's appointment as host of the Digital Earth Africa Programme Management Office, is a wonderful example of what can be achieved through collaboration between Australia and South Africa in the fields of science and technology," said Australian High Commissioner, HE Gita Kamath.
Digital Earth Africa makes Earth observation (EO) data readily available, delivering decision-ready products to the African continent. With free and rapid access to the data they need, policymakers, scientists, the private sector and civil society can innovate to address social, environmental and economic changes across the continent and respond effectively to the challenges of sustainable development.
"SANSA has at the heart of its vision the development of an integrated National Space Capability that responds to the socio-economic challenges in Africa by 2030. Now, through the Digital Earth Africa PMO, we can offer even more solutions to our fellow Africans," explained SANSA CEO, Dr Val Munsami.
The launch event also included a gallery of Earth observation imagery, showcasing work by Digital Earth Africa's Implementing Partners across the continent. The gallery demonstrated how Digital Earth Africa is being used right now to monitor forests in Benin, coastline in Senegal as well as lakes in Kenya and Chad, among many other use cases.
Dr Lisa Hall, Managing Director of the Digital Earth Africa Establishment Team said: "It has always been fundamental for Digital Earth Africa to become fully operational in Africa, and an Africa-based PMO allows us to tailor our platform even more to the needs of our users. The appointment of SANSA as PMO host also signals an important step towards the complete transition of Digital Earth Africa to be owned and run by African organisations and stakeholders."
About Digital Earth Africa
A freely accessible platform, Digital Earth Africa exists to improve the lives of people across Africa by translating Earth observations into insights that will support sustainable development. It provides a routine, reliable and operational service, using Earth observations to deliver decision-ready products enabling policy makers, scientists, the private sector and civil society to address social, environmental and economic changes on the continent and develop an ecosystem for innovation across sectors.