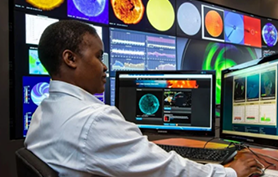 14 Sep

Join SANSA for World Space Week to Celebrate Women in Space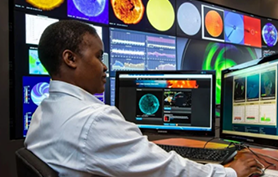 The South African National Space Agency (SANSA) invites you to join us in recognising local space achievements during World Space Week from 4 – 10 October 2021.
World Space Week is an international celebration of Space science and technology and its contribution to the improvement of human lives.  This year's theme is "Celebrating Women in Space". SANSA will host several activities during Space Week to highlight the important contribution of South African women to the local space sector.
A webinar series exploring exciting topics daily, featuring the women at SANSA and their pioneering work, will run from Monday 4 to Friday 8 October. The webinars will be live at 14h00 daily during the week and each
will feature the diverse and passionate women who are pursuing careers in space.
If you would like to stand the chance to win a goody bag of SANSA merchandise then join in for all five webinars and answer the question posted at the end of each webinar. Send all five answers to dfouche@sansa.org.za by 17h00 on 8 October 2021 with your full name and contact number to stand a chance to win the space goody bag.
SANSA is also re-opening its very popular public tours at the Hermanus Facility and tours are planned daily during 5- 7 October at 11h00. These tours are free of charge and recommended for everyone interested in the work we do at a Space Agency. Please book your spot in advance as tours are limited to 15 people per tour. To book, send an email to events@sansa.org.za.
Several young women in
grades 11 and 12 from schools in Hermanus will also be given an opportunity to spend a day at SANSA and learn about the work being done at the Hermanus facility. SANSA is mandated with growing the knowledge economy and offers several programmes through science engagement, aimed at inspiring the youth to take up Science, Technology, Engineering and Math (STEM) subjects. We understand the importance of encouraging more young women to pursue science and engineering fields.
World Space Week Webinar Programme:
Monday, 4 October:
"Space Solutions from Hermanus" by Dr Lee-Anne McKinnell, SANSA Managing Director
Register here: https://zoom.us/webinar/register/WN_Ptxm70jyS0WiKldYJcPtog
Tuesday, 5 October
Meet the Space Weather Forecasters: Forecasting Space Weather to protect technology
Register here: https://zoom.us/webinar/register/WN_kE5Blu80QQCNW4uXvPzFSQ
Wednesday, 6 October
Making Research Count by Dr Rendani Nndanganeni and Dr Tshimangadzo Matamba
Register here: https://zoom.us/webinar/register/WN_RLVHhx_ITSeY2zhRSpHOew
Thursday, 7 October
All things data: Data stewardship, interpretation and dissemination for science advancement
Register here: https://zoom.us/webinar/register/WN_Ea3TER_-SUSN8AQrk-Jx_A
Friday 8, October
From Classroom to Boardroom: Using Space to inspire Science Career Choices
Register here: https://zoom.us/webinar/register/WN_O0Uy3lU5TF-yc3MpHo_FLw
For more information, send an email to spacesci-info@sansa.org.za or contact Daleen Fouche at dfouche@sansa.org.za