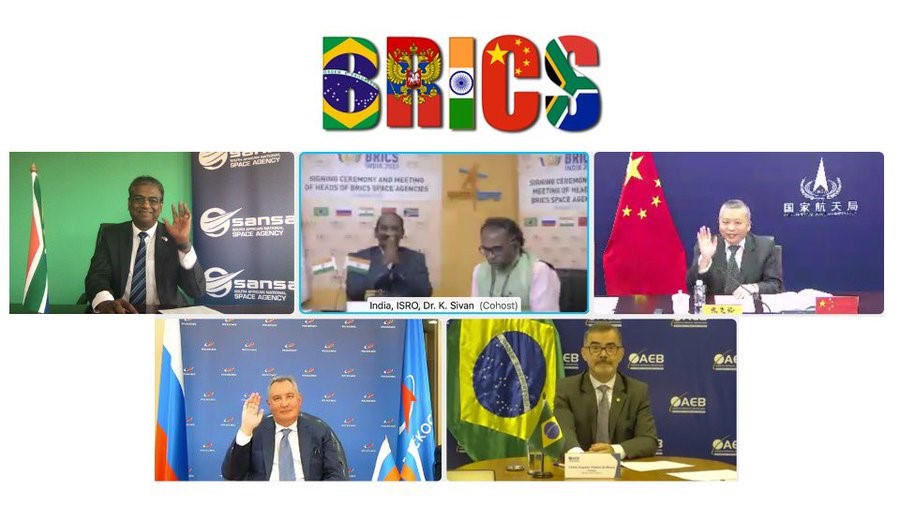 20 Aug

BRICS Space Agencies leaders signed Agreement for cooperation in Remote sensing satellite data sharing

Heads of the space agencies in the BRICS nations met virtually on August 18, 2021. Apart from sharing updates on each other space agency activities, the BRICS Space Agency leaders signed an Agreement on the Cooperation on BRICS Remote Sensing Satellite Constellation. Officials from respective external/foreign affairs ministries also participated in this event.

This agreement enables cooperation among BRICS space agencies to build a 'virtual constellation of remote sensing satellites', as a data sharing mechanism, made up of existing satellites contributed by BRICS space agencies. CBERS-4 (jointly by Brazil and China); Kanopus-V type (of Russia); Resourcesat-2 and 2A (of India); and GF-6 and ZY-3/02 (of China) will be the contributed satellites. Ground stations located at Cuiaba (Brazil); Moscow Region (Russia); Shadnagar–Hyderabad (India); Sanya (China); and Hartebeesthoek (South Africa) will receive data from contributed satellites. This remote sensing data sharing mechanism among BRICS space agencies will help in meeting the challenges faced by mankind, such as global climate change, major disasters and environmental protection.

The South African National Space Agency (SANSA) as an entity of the Department of Science and Innovation, is mandated to support the local and emerging nations of the South -South region through space infrastructure, knowledge and innovation. South Africa is proud to be a part of this Agreement between the BRICS nations that will provide relevant and important data to meet local environmental and development challenges.

"This is a momentous occasion and one that reflects the immense efforts and commitment of all our BRICS partners in signing this important Agreement. This Agreement signals our collective will and ambitions to working together and South Africa remains committed to making our partnership a reality and to growing our coalition to becoming a formidable player in the global space arena."

As a leading space player on the continent, SANSA has a responsibility towards addressing the socio-economic-environmental challenges in the region. This is embedded in our national policies and is reflected in the Vision of SANSA. Hence, SANSA will use satellite data obtained through the BRICS partnership for the benefit of Africa.

Space Agency representatives included Dr. K. Sivan, Chairman, Indian Space Research Organisation (ISRO)/ Secretary, Department of Space, Mr. Carlos Augusto Teixeira De Moura, President, Brazilian Space Agency (AEB), Dr. Dmitry Rogozin, Director General, State Space Corporation "Roscosmos", Mr. Zhang Kejian, Administrator, China National Space Administration (CNSA) and Dr. Val Munsami, Chief Executive Officer, South African National Space Agency (SANSA).