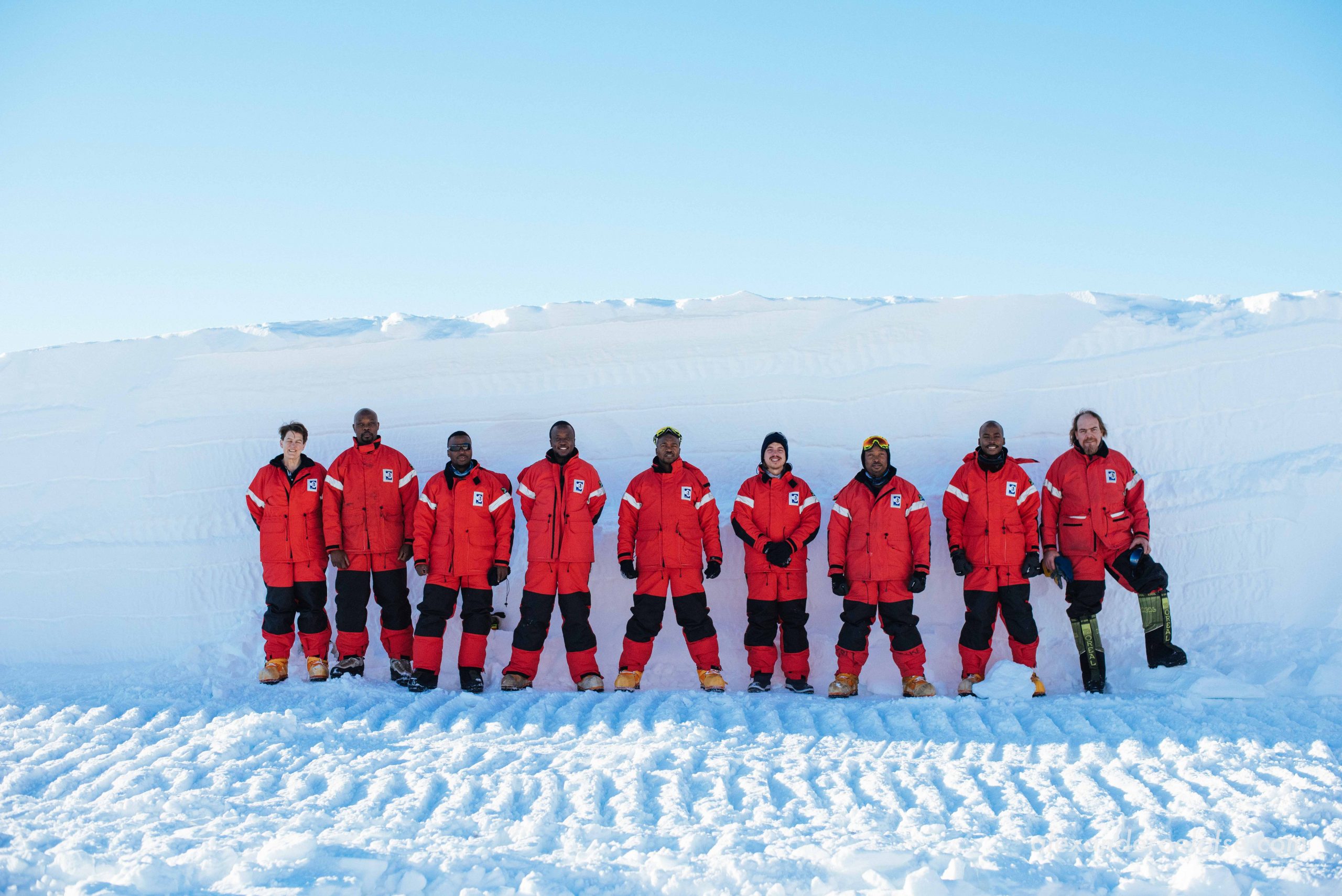 28 May

An Engineer's Antarctic Tale

In December 2019, before anyone ever heard of COVID-19 and Zoom was something only found on your camera, Pierre Retief was on a ship heading for Antarctica, to fulfil a lifelong dream. He was appointed as a Radar Engineer for the South African National Space Agency, part of the nine member team, SANAE 59. Pierre describes this life changing experience in this  article

  

Just getting to the base, SANAEIV, is an experience in itself. It starts with a sea voyage to Antarctica on the amazing SA Agulhas II, where the final destination feels like the end of the world, the ice shelf. This was followed by a spectacular helicopter flight over the ice, before landing on the base's helideck.

Arriving at SANAEIV was an incredible and surreal experience. Having dreamt about this moment for years, it did not disappoint. A quick tour of the base and it was time to get to work.

Maintenance of the base and the transition from the old team to the new happens during the short summer window from December to February. This period is called "Take Over" and it was filled with great memories. Learning everything I needed to know to keep my systems going, meeting loads of interesting people, visiting the German and Norwegian bases, driving a snowmobile, driving a bulldozer, seeing Emperor penguins are just some of the fond memories from Take Over.

Working in this environment forces you to acquire new skills, which is one of the true highlights for me. Everything from learning how to make home-made circuit boards, tying alpine butterfly knots and soldering components so small you need a magnifying glass just to see them! Life can be a constant struggle at times, since nothing ever goes to plan, everything takes longer than anticipated and you hardly ever succeed the first time around.

Simple things will test you, like trying to make a cup of tea, only to find the water in the kettle frozen solid. Or going outside and finding your snowmobile completely buried. At times, you might feel like giving up, but it's not long before you're faced with a challenge and emerge victorious.

Antarctica is unlike any other place I have ever experienced. It's the coldest, driest, windiest place on Earth. It never rains, winter is dark for months and in summer the sun never sets. There are no ants to find a sugary substance left overnight, no mosquitos to bug you, no flies (not even at a fish braai) and no viruses lurking around! After a few months on base, life does achieve some normalcy, with chores like cleaning and cooking forming part of the schedule. Cooking can have its own challenges, like scratching in a tote bin looking for the least rotten potato, or salvaging the last few good onions. Like anything in life, any job gets a whole lot better with good company!

The comforts of base will let you forget where you are at times, with internet, underfloor heating a games room and a sauna, but you are quickly reminded when you open the door, or you have to work on the corner of the roof!

Working for the South African National Space Agency, as the Radar Engineer, my main responsibility was to look after the Super Dual Auroral Radar Network (SuperDARN). SuperDARN is a global network of High Frequency radars, used to measure the conditions of the Ionosphere.

Each radar consists of 16 antennas and 16 transceiver boxes. Both the boxes and antennas require regular maintenance and repairs. To repair an antenna or stay rope, a 16m mast needs to be climbed. There are also some other instruments I was responsible for such as a Neutron Monitor, a seismographic instrument and various GNSS (Global Navigation Satellite System) instruments. A solid understanding of Linux and programming is also essential.

After a full year on the ice, it was time to start the handing over process. To meet the ship, myself and three other team members crossed the ice with two Challengers, towing numerous sleds with containers and bulldozers. Seeing other humans again, eating fresh fruit and vegetables, and being in awe of the bright blue ocean, were the standout memories that day.

Arriving back home was definitely a shock. Port Health could not clear the ship as those of us who over-wintered, were never tested for COVID-19 on departure (COVID-19 did not exist when we left civilization). After being tested and testing negative, the ship could finally be cleared. Stepping off the ship, the reality I have only read about was thrusted upon me. Everyone was wearing a mask, people were tapping elbows and foot dispensable hand sanitizers were found everywhere. My wife has been a huge help in getting me up to speed with the new normal.

The trip to and from SANAE, the life on base, the work challenges and the return to a different world, are all experiences I will be with me for the rest of my life. A truly strange, tough and magical experience. My utmost gratitude to SANSA for giving me this opportunity of a lifetime.

Watch a video tour of the SANAE Base here.