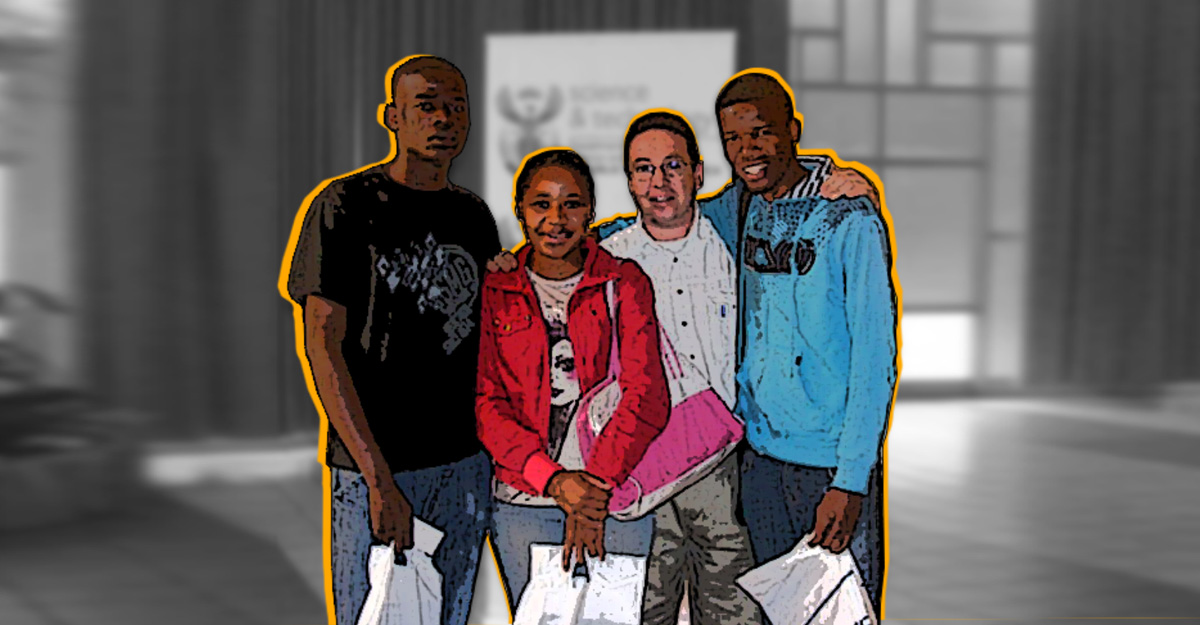 08 Feb

Johnny Rizos – 23 years of science advancement

Johnny Rizos started working for the CSIR's Satellite Applications Centre (SAC) in 1997 as an operator tracking low Earth orbit satellites. Four years later, Rizos moved to the Earth Observation department at SAC, where he processed satellite data and produced imagery for the next decade.

He cultivated a passion for science advancement by volunteering for some science outreach efforts during this time. "I was reaching out to the young kids who attended science festivals, and I would visit schools to speak to young learners in the subjects of maths and science," Rizos says.

When the SAC was integrated into the newly established South African National Space Agency (SANSA) in 2011, Rizos jumped at the chance to be a part of SANSA's Science Advancement programme, which would become his full time job for the following nine years. "I was excited to be able to reach out to pupils in rural areas, pupils who were not as easily accessed by science outreach," says Rizos.

Advancements in the space sector in the last 23 years have been exciting for Rizos and he has enjoyed conveying that excitement to the pupils who attended SANSA's science outreach events and facilities.

"The smallest satellites these days are smaller than the size of a loaf of bread, and this makes it easier to demonstrate to kids because they have a model they can hold and touch. And it makes it so much easier for them to understand what a satellite is," says Rizos. "Everything has become easier now; it excites me to see the sparkle in their eyes when they sit at a computer and work with satellite images."

2020 was Rizos's final year at SANSA as Science Advancement Officer, but only after the COVID-19 pandemic forced his outreach activities to go digital. "It was not easy at first but I picked it up and eventually everything had to become virtual," Rizos says. "It was difficult at the beginning but the more the schools got on board, the easier it became reaching out to teachers and the general public."

Reflecting on his time at SAC and SANSA, he says, "Giving back to the community became a passion for me, and it has been quite fulfilling for myself and my former colleagues. Having started the outreach programme at the SAC and seeing it progress over 23 years into what it is now, with passionate colleagues running it is among the most fulfilling things I have done so far."

Johnny has left SANSA to pursue another passion in his life and the Agency acknowledges his commendable service to inspiring many youth to take up science and mathematics.