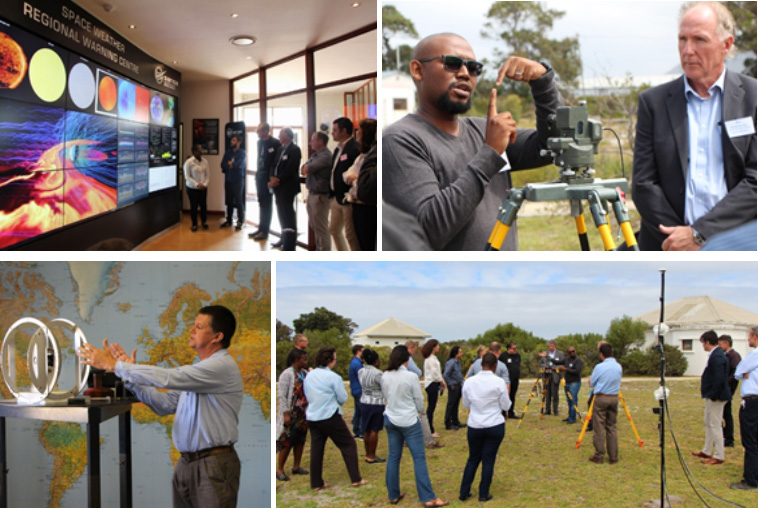 26 Apr

What's trending at SANSA?

Space Science Industry showcase

SANSA hosted space industry players for an exclusive space science showcase on 28 February 2019, to provide industry stakeholders with an opportunity to view SANSA's Hermanus facilities that could be of benefit. Representatives from 10 different companies within the space sector attended.

The event included an overview on SANSA's industry capabilities in space science and magnetic technology services, followed by viewing and hands-on demonstrations of SANSA's unique facilities. SANSA will be hosting more events of this nature to continue industry engagement and ensure our products and services are developed in areas required by the industry.

Magnetic technology training ongoing

Magnetic technology-related training courses were recently presented to members of the defence sector, including a compass swing refresher course for the SA Air Force and a magnetic awareness course for the SA Navy. The compass swing courses, which are accredited by the Civil Aviation Authority (CAA), form part of a magnetic technology services contract that SANSA has with the SA Air Force.

These courses form part of  defence personnel training in South Africa, and ensure that appropriate knowledge and skills are developed for the security of the nation. SANSA also provides various magnetic technology-related services to the defence and private sector, including calibration of magnetic test benches and fluxgate magnetometers, a magnetic survey, and magnetic modelling services.

Space Talks at SANSA

SANSA's Space Talk series is a popular public engagement opportunity presented regularly throughout the year at SANSA in Hermanus. SANSA recently hosted two presentations in the Space Talk series which drew significant public interest. The Director-General of the European Space Agency (ESA), Prof Jan Worner, presented on 'Space Tackling Global Challenges', and Italian Researcher, Dr Lucilla Alfonsi, presented on 'Electrons in the Atmosphere: Useful or Harmful'.

Watch Prof Worner's talk here, and see other SANSA Space Talks on our YouTube channel. The next talk will be taking place on 7 May 2019.