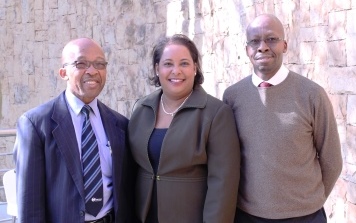 05 Sep

SANSA welcomes interim CEO
On 1 September, SANSA welcomed Mr Potlaki Maine as Acting Chief Executive Officer following the resignation of former CEO, Dr Sandile Malinga.
Dr Malinga has been with the Agency since inception and developed the strong foundation for SANSA to fulfil its mandate. He has left after six successful years establishing SANSA to take up the role of COO at ATNS.
Mr Maine is a seasoned IT professional and campaigner who has held a number of senior roles in the public and private sector, including being appointed as a founding Board Member of the South African National Space Agency (SANSA) in 2010 and further reappointed in 2014.
His professional career in South Africa began at Absa in 1993 where he progressed to become a Senior Project Manager in Group IT.
He thereafter joined SITA to manage an application development and architectural team that, among other things, developed the Technology Master Plan, a blueprint for IS strategy/ planning and technology utilisation for the Department of Defence. In 2003, he joined the South African Revenue Service (SARS) where he contributed to the e-filing architecture for the award winning "single view of a tax payer" e-filing project.
He moved to Microsoft SA in 2005 where his role highlighted his innovation advocacy while contributing to the setting of the research agenda for collaborative work. He joined the South African Broadcasting Corporation (SABC) as a General Manager IT (CIO) in 2008. A key success for Potlaki was the implementation of a cookie-cutter and shared-services implementation model with IT as an integrated delivery and competency hub for the whole of the enterprise. He was also a part of the team supporting backend systems and enabling platforms that successfully delivered the first FIFA World Cup in South Africa in 2010.
In 2013 he joined SENTECH on a three-year contract as part of the EXCO leadership team, to position IT as a key business enabler to effectively transition SENTECH into a media platform service business.
His academic background includes a BSc (magna-cum-laude) in Mathematics (Pure and Applied) from Cuttington University in Liberia, an MS in IS (Information Resource Management) from Syracuse University and a Diploma in Project Management from UNISA School of Business Leadership.
He undertook Executive Leadership Training at the Graduate Institute of Business Science (GIBS), University of Pretoria. He is a Certified Associate of the Institute of Bankers in South Africa (CAIB).
We wish Mr Maine all the best in this crucial SANSA role as we proceed with the process to appoint a permanent CEO at SANSA.