SANSA Space Operations manages and maintains more than 20 antennas and a number of ground stations at Hartebeesthoek. This includes the full-motion TT&C (telemetry, tracking and command) antennas, and five remote sensing systems across all frequency bands (and in S-band for mobile support). In addition to the antennas, Hartebeesthoek also operates the South African Earth observation satellite, SumbandilaSat, and hosts an Orbcomm ground station.
Space Operations Services
Applied research development and innovation in key space operations and applications

Spacecraft launch life-cycle

Emergency support

TT&C (telemetry, tracking and command) services

TOS (transfer-orbit support) services

IOT (in-orbit test) services

Hosting services

Carrier monitoring services

Systems and radio-frequency engineering

24/7 project management and maintenance and antenna

Ground station installation (procurement, import, logistics, soil testing, civil, electrical, HVAC (heating, ventilation and air-conditioning) works, construction, integration, acceptance testing and commissioning).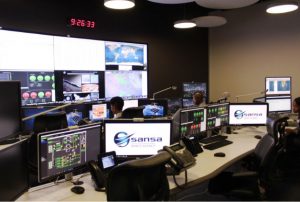 The activities of the TT&C group at SANSA Space Operations are driven primarily by the needs of international clients in Europe and the USA. The operational efficiencies that these clients require have driven the consistently reliable performance of the Space Operations division at Hartebeesthoek, which has established itself as the most reputable TT&C tracking station on the African continent.
Since 1984, Hartebeesthoek has supported close to 300 spacecraft in low-Earth orbits and high-altitude geostationary orbits. The ground station notched up an unprecedented 20 launch supports during 2010 alone, while maintaining service levels at 100%.
In August 2011, the ingenuity of the TT&C team was soundly tested with its first dual-launch support task, which orbited two telecommunications satellites simultaneously. All manoeuvres were performed without fault and once again proved the team's technical competency to the international space community.
Today, SANSA Space Operations provides services to most major satellite manufacturers, operators and space agencies world-wide. The TT&C capabilities of the staff and facilities at Hartebeesthoek enables the station to support any ground segment requirements, from establishing high-tech ground facilities such as antennas and ground stations, to operation and maintenance of such facilities for international clients.
Antennas
Hartebeesthoek operates around the clock and throughout the year to support satellite launches. The antenna systems are located across 32 secured locations on the 2890 ha site, and are available in L, S, C, Ext C, X, Ku, DBS and Ka frequency bands, as well as S-band for mobile support. Seven of the antennas are full-motion TT&C antennas.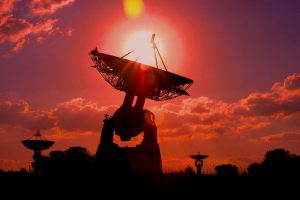 The TT&C group constructed most of the infrastructure of the antennas and ground stations at Hartebeesthoek, albeit with assistance from overseas clients where necessary. In 1997, new 13.2m Ku/DBS-band and 13.2 Ka-band antenna systems were installed in a record time of nine months, which included all the civil, mechanical, electrical and electronic systems to track the launch of Bonum 1, for which the TT&C staff received on-the-job training. In 2008, the X-band capabilities dedicated to Earth observation data reception at Hartebeesthoek were upgraded with the installation of a new 7 m X-band antenna.
The antennas at Hartebeesthoek can detect satellite sensors that cover an area over the southern African continent from 3° to 50° south (as far north as Bujumbura in Burundi). They generate a wide variety of data and can transmit these as images that range from a low to a very high resolution.