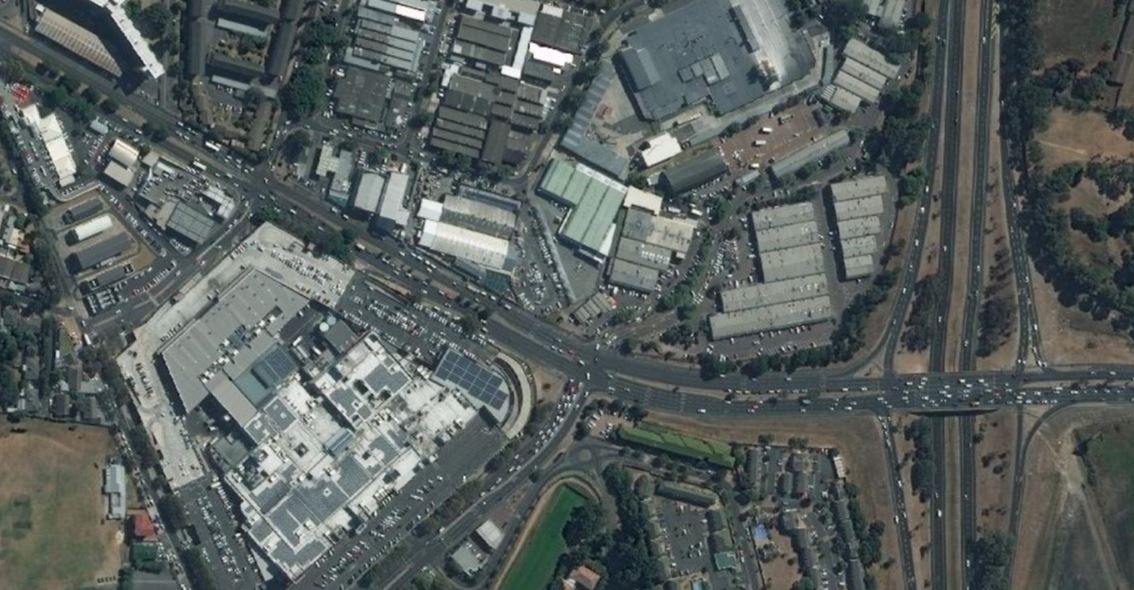 01 Jun

Satellites tracking vehicle movements

Tracking vehicular movement during Lockdown levels using Satellite imagery

SANSA has been utilising remote sensing satellite imagery to assess vehicle presence on the roads and at shopping centres. During lockdown, human mobility is expected to be minimised and the correlation of human mobility was measured against vehicle presence on the roads and shopping centres.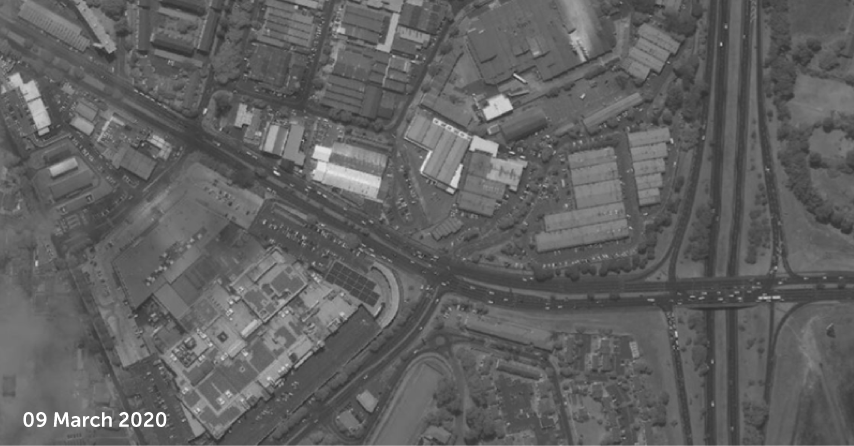 Pre-declaration of covid-19 as a national disaster (09 and 14 March 2020)           
During this period, human mobility was not hindered in any form, therefore high visibility of vehicles was observed on the roads and at Kenilworth shopping centre parking lot and surrounding areas. This translated into high human mobility within this area of Kenilworth, Cape Town, Western Cape.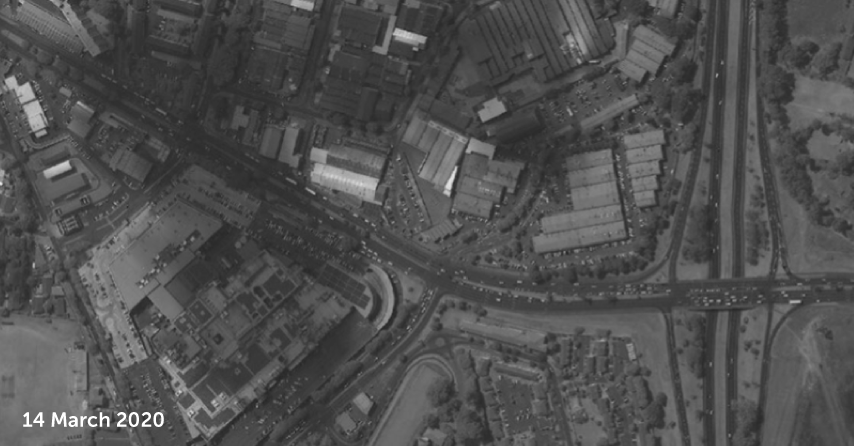 President Cyril Ramaphosa declared South Africa a state of national disaster on 15 March 2020. After the declaration, human mobility remained high as indicated by the presence of vehicles on the road as per images below.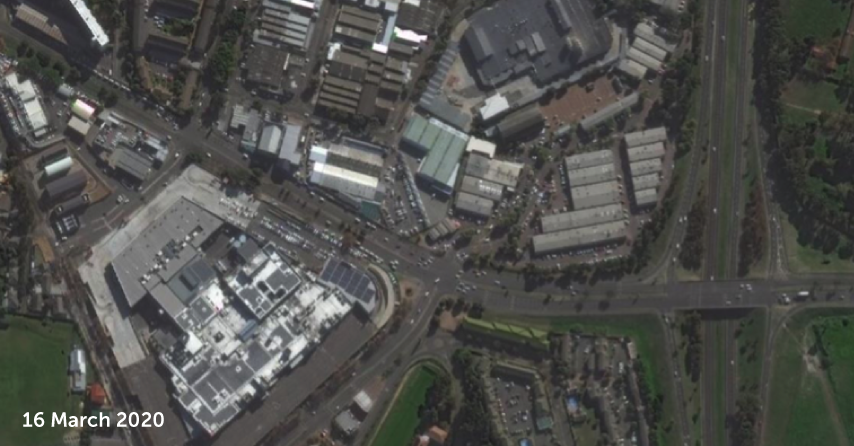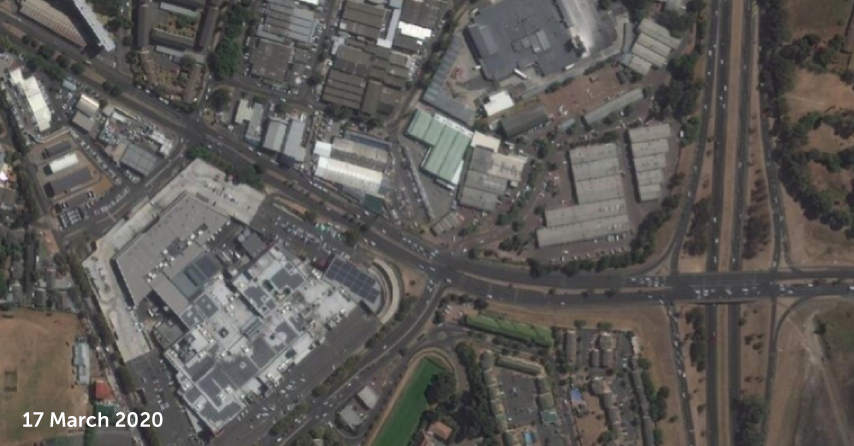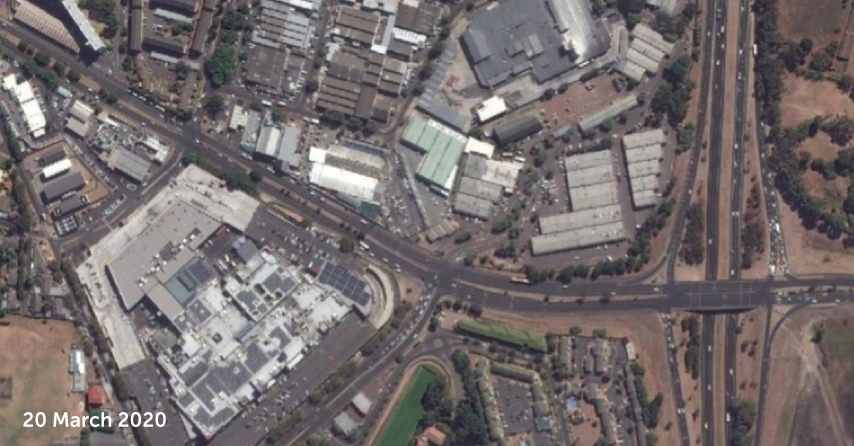 Upon the declaration on the 23 March 2020 of the Level 5 national lockdown to take effect on the 26 March 2020 at 2h59. High volumes of vehicles continued to be visible on the roads, with much higher volumes visible from 25-26 March 2020.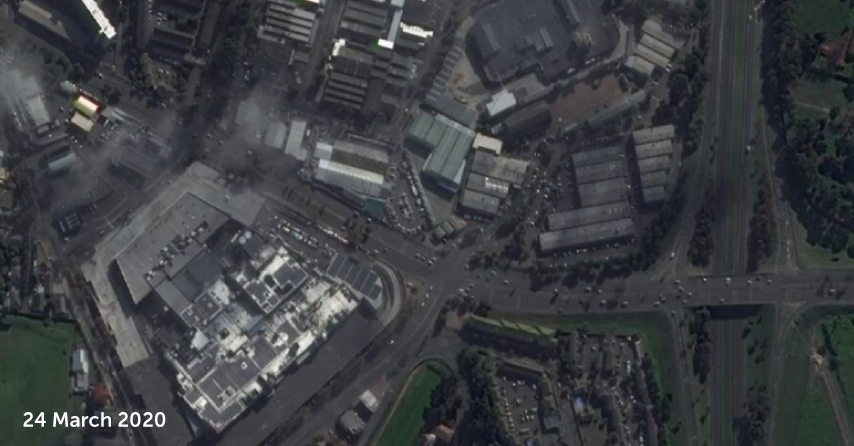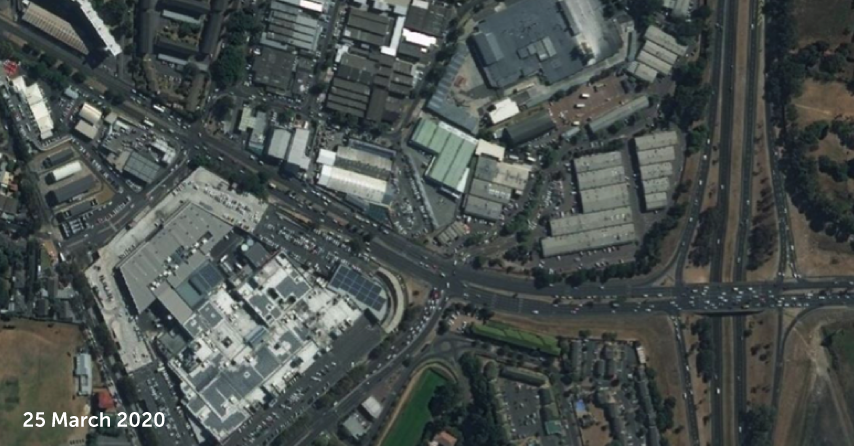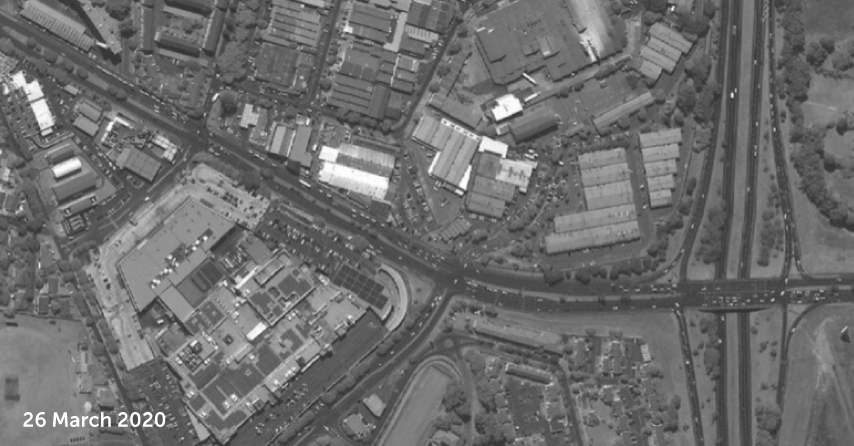 On the 27 March, first day of the level 5 national lockdown, huge reduction in the visibility of vehicles on the road is observed from the satellite imagery below. This indicates that citizens in this area heeded to the call for national lockdown with the exception of the few essential workers.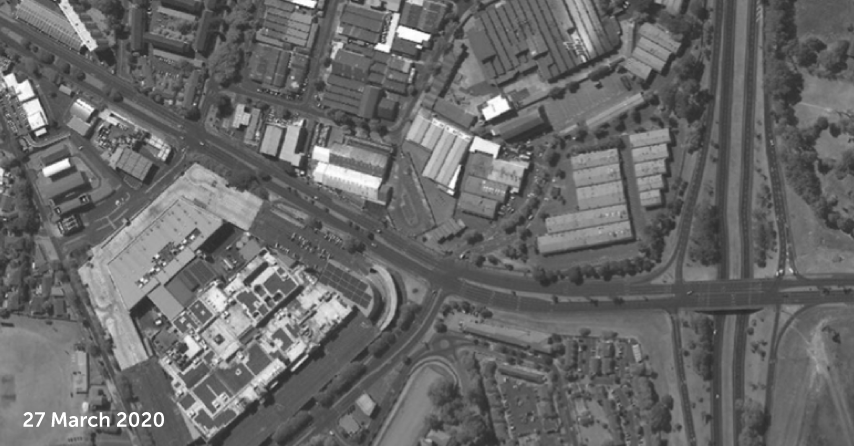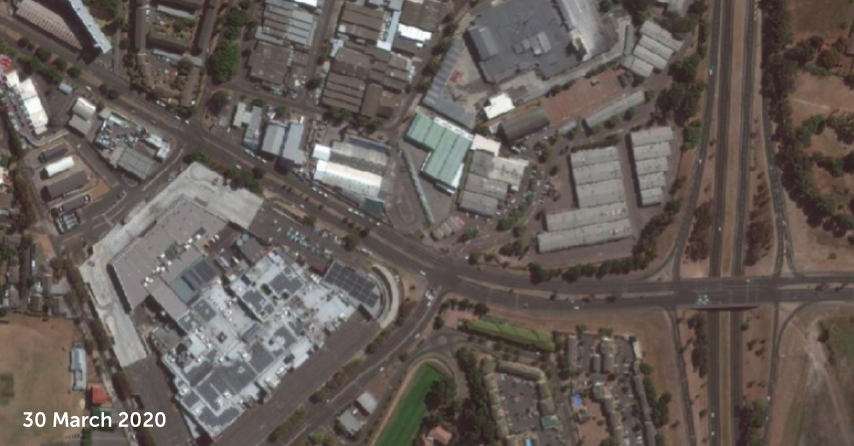 During the month of April 2020, extremely low to no vehicle presence is observed. Most of the vehicles are observed in the same location on multiple satellite imagery leading us to conclude that these were parked and not moving during the month of April 2020.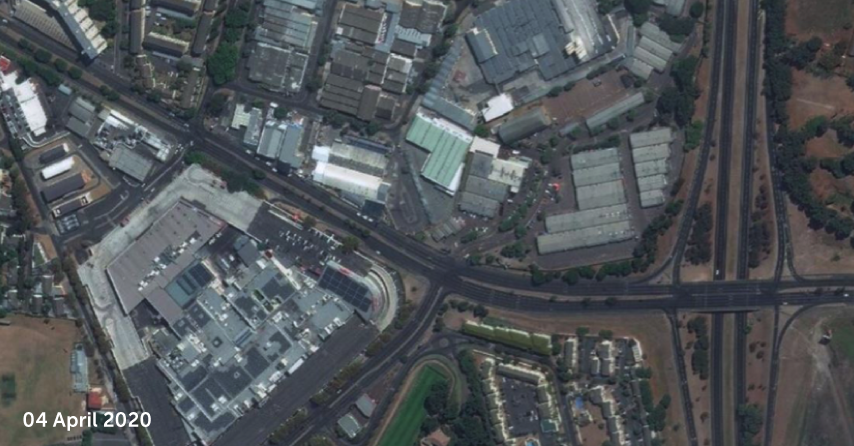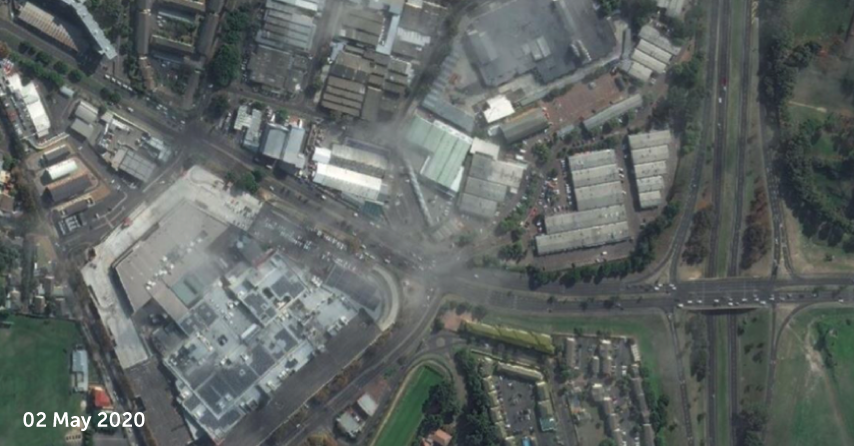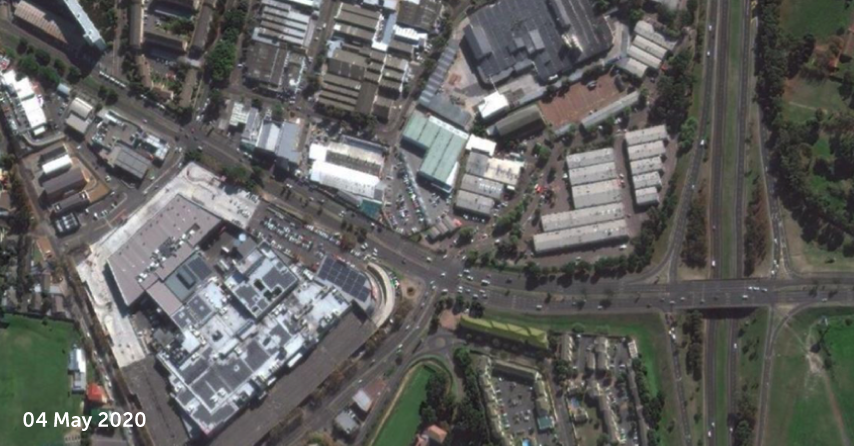 At the beginning of May 2020, an announcement was made for some of the lockdown restrictions to be relaxed and the country adopted level 4 state of lockdown. During this period, inter-province movements were allowed from 1-7 May 2020. During this period, an increase in vehicle presence is observed on the road in the area.
Level 4 Lockdown with inter-provincial movements allowed.
Upon the expiry of the inter-provincial movement allowance, the Level 4 lockdown continued, however there seem to not be any change in the presence of vehicles in the area (08-26 May 2020). The presence of vehicles observed seem similar to during the lockdown interprovincial movement break. The observation remained relatively similar until 24 May 2020, a date on which the latest satellite imagery acquired over the area is available.