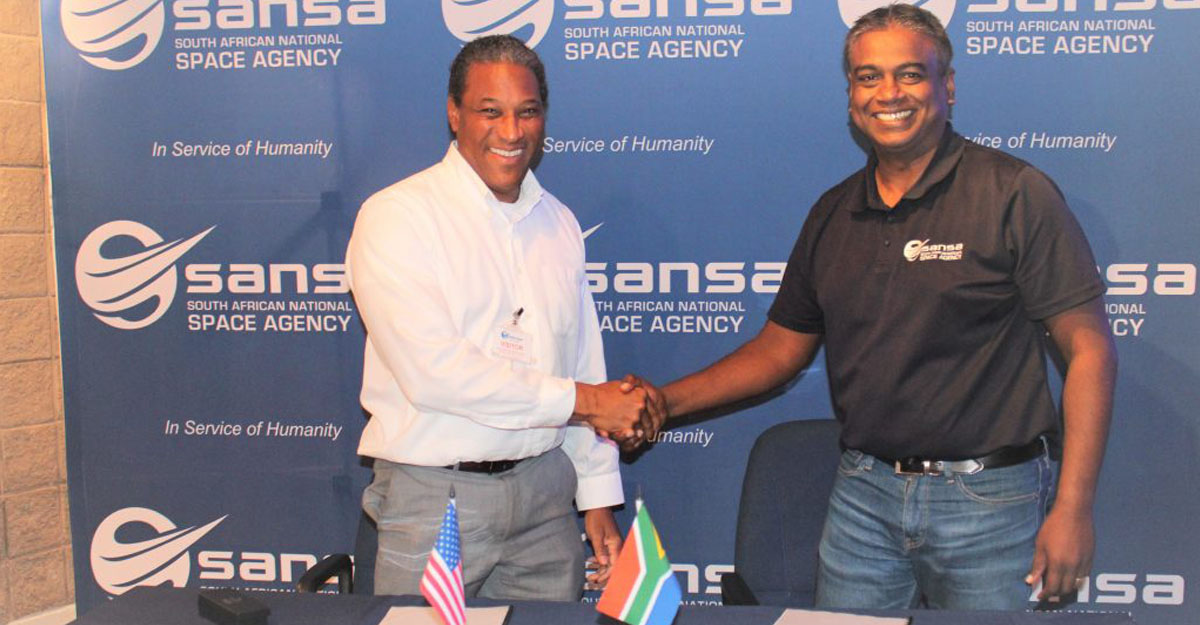 20 Mar

What's trending at SANSA?
SANSA and NASA sign deep space agreement
SANSA and the National Aeronautics and Space Administration (NASA) are looking into a potential ground station in South Africa that would support future near-Earth and deep space exploration. 
The ground station, which could be located in Matjiesfontein, Western Cape Province, may be crucial for NASA's planned Artemis mission to send humans to the Moon again.
"Having worked with the South African government on numerous projects in the past, it is fitting to collaborate with SANSA on this study agreement," said the Director of the NASA Management Office, Marcus Watkins, during the signing ceremony at the Matjiesfontein site in February 2020. "This is not only because of the geographical positioning of South Africa but more so the technical capabilities and the consistent quality of work produced by SANSA Space Operations over the years."
According to SANSA CEO, Dr. Valanathan Munsami, continuous research and development are vital in any industry for it to thrive. And, at the rate and pace the space industry is developing, it's appropriate for SANSA to partner with NASA on this study agreement, he says.
SANSA to help draft new SADC Space Strategy
SANSA is working with the science ministries of the Southern African Development Community (SADC) to draft a space strategy for the 16 country collective. This effort forms an important part of SANSA's five-year strategy to develop the space sector in Africa.
The ministers of science and technology from the 16 partner countries resolved in August to form a SADC Space Programme. "We needed to have a subsequent workshop with the experts to start working on what we want as targets and indicators, and we are busy planning that kind of workshop," says SANSA CEO, Dr. Valanathan Munsami.
"We intend to go to the SADC ministers meeting in June this year to present the strategy and see if we can get the approval to start setting up the SADC programme," he says. SANSA is well-positioned to provide leadership on this strategy as South Africa hosts part of the Square Kilometer Array Telescope, and SANSA leads space science research and operations in the region.
SANSA uplifts emerging countries' space capacity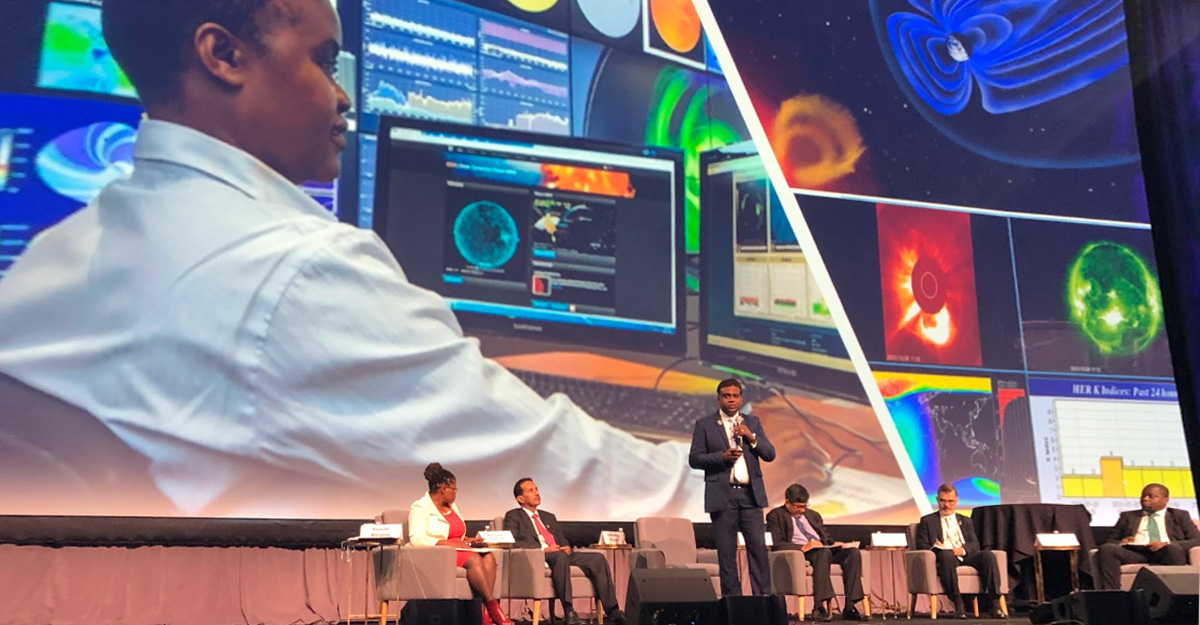 SANSA CEO, Dr. Valanathan Munsami, is working on a framework for emerging countries in Africa to help build capacity for space operations. Munsami is the Vice President for Emerging Countries at the International Aeronautical Federation, which is responsible for helping emerging countries develop space operations capabilities.
"We've started to do a lot of work and initiatives in this regard. For example, in April 2019, we had the fifth dedicated global conference for emerging countries in Marrakesh, Morocco," says Munsami. In March 2020, Munsami will also have attended an IAF meeting in Paris where emerging countries discuss how they work together to develop their own space programmes.
"We are using the IAF as a vehicle to target emerging countries in Africa, South America, East Asia and so on. There is a lot of momentum that has been created in the last two or three years."
SANSA to host African Space Leadership Congress
The 9th African Space Leadership Congress will be hosted in Durban in October 2021, after a successful congress convened in December 2019 in Addis Ababa, Ethiopia. The congress will see African experts in space share recent developments on the African continent.
"South Africa has been earmarked to host the secretariat for this, and there has been work done to develop a website and get people to register and participate online," says SANSA CEO, Dr. Valanathan Munsami. 
SANSA will work to make the congress more a formal space body in Africa that will take stock of the progress of space operations in Africa.
SANSA summer school a success 
SANSA hosted 16 Honours students from the University of Cape Town at the Introduction to Space Physics Summer School during February 2020. The summer school is part of the National Astrophysics and Space Science Programme (NASSP), a nation-wide joint teaching collaboration between institutions to build research capacity in South Africa.
The students attended short presentations by SANSA staff on their research areas, including plasma physics, geomagnetism, the ionosphere, geomagnetically induced currents (GICs), electrodynamics of the upper atmosphere and space weather. The students were also informed about bursary offerings for postgraduate studies and career choices in space science, and were taken on a tour of the facility.
Dr. Shimul Maharaj conducted the summer school and found the students to be quite active and responsive as they engaged with him and the other SANSA researchers on the many opportunities available in space science. "The feedback from the students, which covered all aspects of the school, including the programme, was very positive."