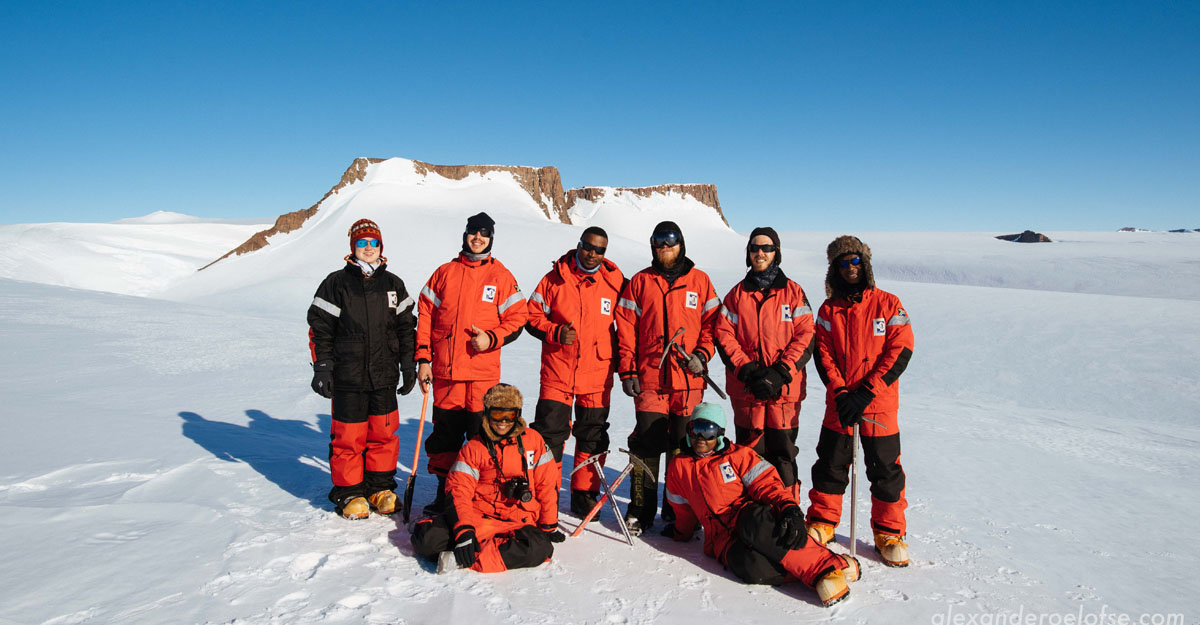 20 Mar

SANSA's overwintering crew says, "Bon Voyage!"

Travelling by ship to and from Antartica is best done during the austral summer, between November and March, when the weather is good and the days are long.

"It is odd looking at your watch at 2 am and seeing the sun still up," says SANSA Engineer, Mr Travis Duck. "Sailing on an ice-breaker all the way to Antarctica was an amazingly exciting time, with many new and brilliant things that we had never seen before, such as giant icebergs."

These warmer months are the best time for whale watching, and to see frolicking fur seal pups and fledging penguin chicks.

Duck and fellow SANSA Engineer, Ms Mpati Boleme, arrived in Antarctica last summer to spend the winter at the South African Antarctic base, SANAE IV, as part of the 58th crew of the South African National Antarctic Expedition (SANAE 58) – this means they waited 14 months for their ship to come in, and to take them back home to their families.

The SA Agulhas II, a polar logistics and research vessel, departed from Cape Town, South Africa, on 10 December 2019. It arrived at SANAE IV, in Droning Maud Land, Antarctica, 12 days later with a fresh crew to relieve Duck, Boleme and the other overwinterers.

The 2020 take-over crew included two SANSA staff members, Mr Stephanus Schoeman, Team Leader and Expedition Chief Land-based Scientist; Ms Camilla Smyth and Ms Tumi Molamu, both SANSA Volunteers; and three SANSA Engineers: Mr Thomas Chauque, Mr Vhulahani Manukha and Mr Pierre Retief.

Manukha and Retief are fairly new at SANSA and will form part of the SANAE 59 overwintering team – every year SANSA recruits and trains two electronics engineers to look after and operate SANSA's instruments in Antarctica. 

Speaking to news channel eNCA just prior to departure, Retief said, "one of the main instruments that I will be maintaining, servicing and repairing is called the HF SuperDARN radar. That is an instrument that we use to measure the ionosphere around the earth".

HF radars can, for instance, detect high-energy radiation from solar storms entering the atmosphere, or track the effects of solar storms on the density of the upper-atmosphere, which affects the lifetime of satellites.

Retief and the rest of the SANAE 59 crew have since relieved SANAE 58, and will only return home again in 2021.

"The official takeover took place on the 25th of January 2020, when the new team took over the systems and the base from the old team. It is a day of celebration each year, and a good time was had by all," explains Duck, who arrived home in South Africa aboard the SA Agulhas II on 28 February 2020. 

Two days prior, Chauque gave eNCA's Jane Dutton an update on the new crew's activities via video call from the Antarctic base:

He explained that maintaining SANSA's suite of instruments, weather permitting, is a key part of everyday life.

These instruments operate all year round, and provide near real-time data, critical to the provision of services that protect the country's national assets, both in space and on the ground, against the adverse effects of Space Weather phenomena.

Long term data sets are also collected throughout the year and repatriated to South Africa with the returning team members. This data is used for fundamental research in the fields of geomagnetism, ionospheric physics and magnetospheric physics, to enhance the understanding of the interactions between the sun and our near-Earth-Space environment.