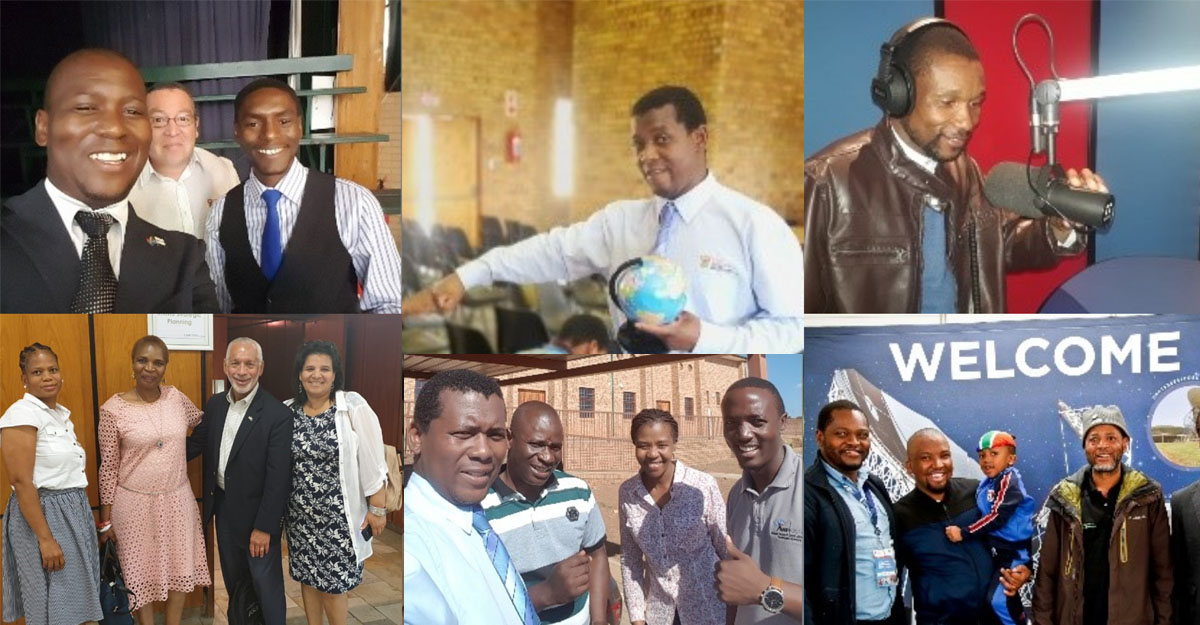 20 Mar

Over 10 000 learners across South Africa saw value of space science in 2019

Satellite and other space technologies help every South African, whether it is used to track stolen livestock or vehicles, or to show how climate change affects trees and arable land over time.

Using just their smartphones, educators and learners can see the impact of space science on their lives firsthand, says SANSA Science Advancement Manager,  Mr Daniel A. Matsapola, who leads SANSA's outreach efforts. 

During 2019, his team visited several areas and schools across the country, including Mabotha Secondary School in the ga-Kibi village in the Limpopo Province, and 13 Sekhukhune District schools in Limpopo Province.

"For many of the educators, it was the first time they saw a satellite image on their mobile phones, along with the Global Positioning System (GPS) coordinates of their schools," says Matsapola. 

"One educator, who owns a fleet of taxis, finally understood how the vehicle tracking system enabled by the network of Global Navigation Satellite Systems (GNSS) works, and how innovative applications can be used for livestock tracking to mitigate against livestock theft in rural areas."

Matsapola says strong partnerships with educators enable SANSA to truly support Science, Technology, Engineering and Mathematics (STEM) education in South Africa, and to bring context to the changes brought on by the Fourth Industrial Revolution. 

"One such strong partner educator is Mr Matome Tlhako, who teaches at Lekwa Secondary school in Mosesetjane village, near Mokopane," he says. "Mr Thlako invited SANSA to engage with the Star Winter School that is run in Mokopane on Saturdays in June and August 2019. He embodies the kind of educator that South Africa needs to prepare our youth for the changing world, and is our gateway to engagement with learners in the Waterberg District of Limpopo Province."

One of the ways SANSA engages learners is to show them practical ways they can use their smartphones to do basic mathematical calculations that could help planning and monitoring in their own environment. 

"Satellite images covering their schools were used to show the number of trees on the school premises over time, and the implications this has on the environment's ability to cope with climate change," explains Matsapola. "The learners were excited to see the practical applications of space science and technology; particularly the videos demonstrating the launching of satellites into Earth orbit, as well as the polar orbiting satellites that produce images of their schools over a period of time."

Matsapola says he is also very proud that SANSA was able to engage nearly 10 000 learners from all nine provinces during National Science Week (NSW) 2019, held at multiple sites simultaneously from 29 July to 3 August.

Ms Sinesipho Ngamile, SANSA Science Advancement Services intern, was part of the SANSA NSW 2019 team. "I gave back to my own community by presenting a workshop for the youth in my hometown, Keiskammahoek, as well as at my former high school in Cathcart," she says.

To further develop her skills as a science communicator, she attended four other science festivals during 2019, namely the Eding! International Science Festival and the Rural Education Festival in Limpopo Province, ZulFest in KwaZulu-Natal Province, and World Space Week in North-West Province and Northern Cape Province.