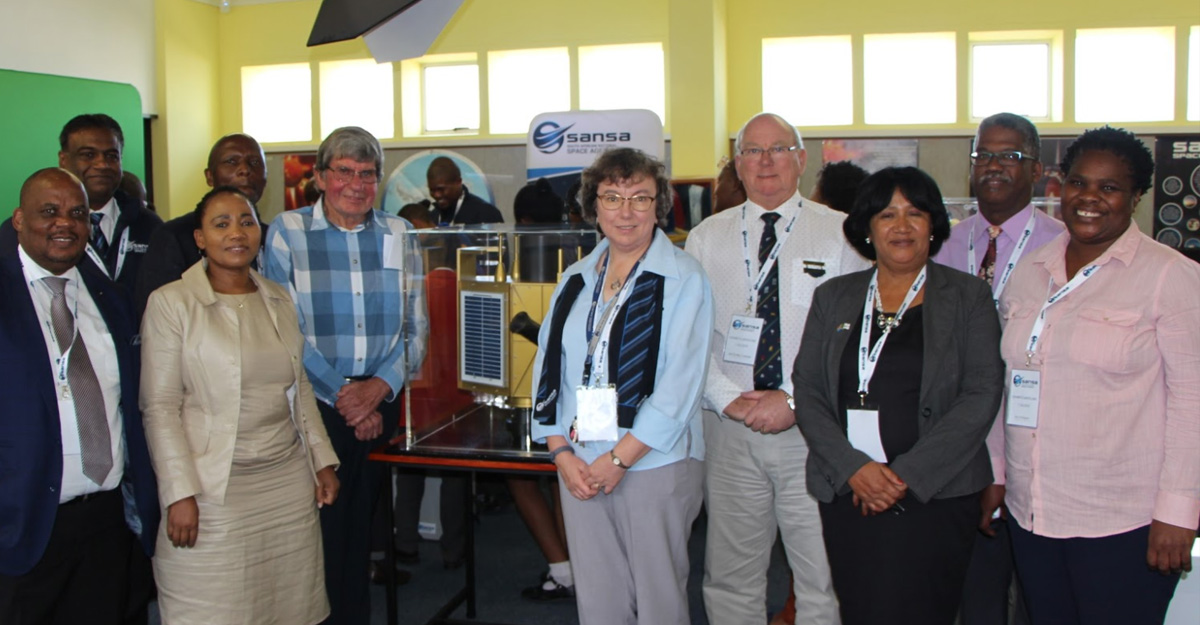 03 Dec

SANSA Science Centre unveils new space exhibits at 15-year celebration

SANSA's Science Centre in Hermanus celebrated 15 years of science outreach with new interactive space exhibits, like a space weather touch table and a replica of South African satellite, SumbandilaSat.

First opened in October 2004, the Western Cape-based Science Centre has shared the wonders of space and South Africa's space-based activities with more than 70 000 learners and over 1 000 science educators.

Today, the Science Centre boasts several brand new exhibits, including something called a planeterrella: a device that demonstrates how the beautiful Northern Lights (or Aurora borealis) is created when plasma from the sun interacts with the Earth's magnetic field.

Another addition is a replica of South Africa's second satellite, SumbandilaSAT, an Earth observation satellite that monitored disasters such as floods, oil spills and fires within Southern Africa.

Visitors can also interact with a new space weather touch table, which features games and missions that explain how space weather affects technologies on Earth and in space.

Speaking at the Centre's anniversary event, Dr Jabu Nukeri (Managing Director of the South African Agency for Science and Technology Advancement, or SAASTA) said, "SANSA's contributions will go a long way in putting science in the hands of society. Your next challenge is to keep the momentum and solidify what has already been achieved over the last 15 years within the SANSA Science Centre."

The 15-year anniversary celebration formed a part of SANSA's celebrations of World Space Week (4 to 10 October). Space Week is the largest global space event every year, with space outreach and education events hosted all over the world.

"The 15th anniversary celebration provides us with an opportunity to reflect on our 15-year journey with learners, educators and visitors to the SANSA Science Centre," said Elisa Fraser, SANSA Science Advancement Manager. "We're proud of the development of the centre through partnerships and the science engagement programme, and excited to continue this journey, using space as a driver to excite the next generation about maths, science and technology."

Overstrand Executive Mayor, Alderman Dudley Coetzee, acknowledged the significant contribution SANSA has made in building the South African knowledge economy, by engaging the youth in STEM subjects through interactive exhibits and science programmes within the SANSA Science Centre.

The Centre hosts more than 6 000 visitors every year, and forms part of SANSA's greater Science Engagement Programme, which promotes interest in science, technology, engineering and mathematics (STEM) among learners, educators, the public and policy-makers.

SANSA also participates in national exhibitions and school visits, and tours South Africa with the SANSA Space Lab, a state-of-the-art interactive mobile laboratory that travels across the country bringing space science to rural schools.

Annual SANSA roadshows further encourage learners to aspire to careers in STEM, along with public engagement activities such as public tours and a public lecture series.

SANSA's Hermanus facility hosts an annual Open Day during National Science Week, and public tours are available every Wednesday at 11 am.