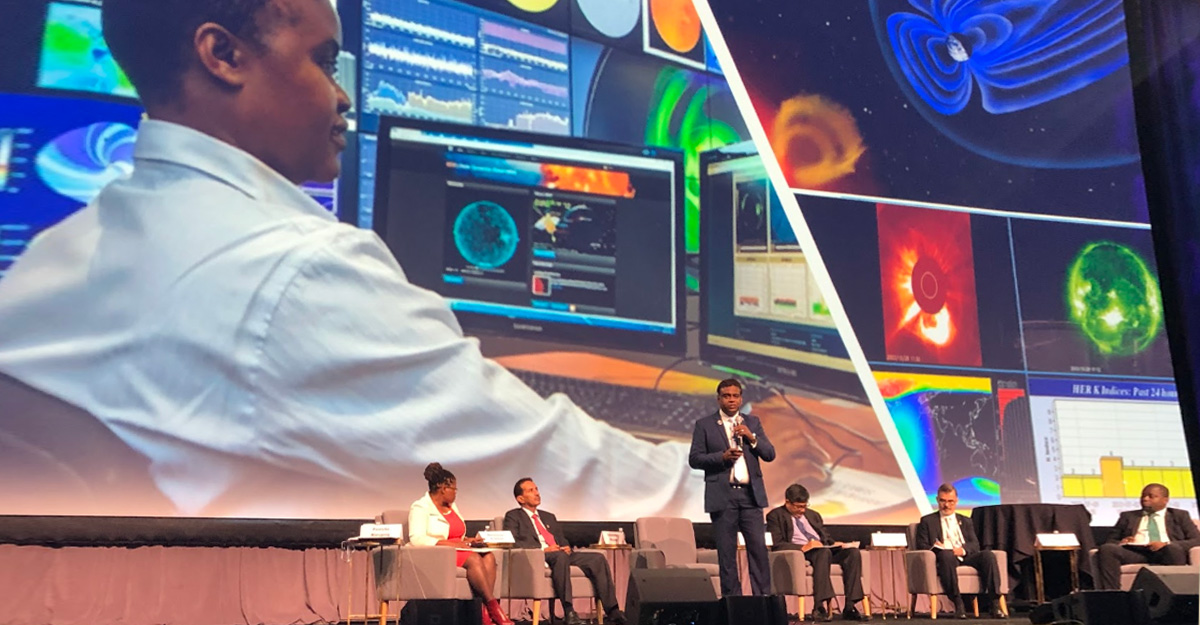 03 Dec

SANSA leads emerging space agencies at IAC 2019

This year marks 50 years since man first set foot on the Moon, a feat celebrated by the International Astronautical Congress held in Washington DC, United States, in October 2019. SANSA attended the week-long event to show that South Africa and the rest of the continent are ready to make further giant leaps for mankind.

SANSA CEO, Valanathan Munsami, led the South African exhibition team. "Our stand was unique in the sense that we were the only country that brought our space industry players to display their capabilities to the global space industry," he says.

"We had ten industry players on one stand, and each one showcased what they are producing, like satellite engineering or optical camera systems." Munsami says conference participants saw value in what South Africa was bringing to the event because the industry partners made some successful sales.

"We gave a collective sense of what our industry is doing, and we were the only African country to be present in a forum like this," says Munsami.

SANSA also organised several plenaries during the five days. One of the plenaries hosted the heads of emerging space agencies from the United Arab Emirates (UAE), Angola, Brazil, and Thailand. It was modelled on the existing plenary of heads of space agencies that include agencies such as NASA, JAXA, and ESA.

"Those were well attended and well received," says Munsami. "A lot of people were surprised about all that was coming from the emerging space agencies."

Session attendees learned that the UAE has a mission going to Mars in 2022, and that they just welcomed home an astronaut who had been to the International Space Station (ISS).

Angola meanwhile is an emerging space-focused country in Africa. "Angola has a telecommunications satellite in orbit, and they've started to talk about what they're doing as a new entrant," says Munsami.

As the vice president of the International Astronautical Federation (IAF), Munsami is focussed on emerging countries in the space sector.

"SANSA invited the African Union commission to attend IAC 2019, and the AU Science Commissioner, Professor Sarah Anyang Agbor, was at the event," Munsami says. "It was the first time that the African Union attended the event, and for them it was an eye-opener."

The IAF also featured the Emerging Space Leaders grant programme, where South Africa was represented by SANSA Space Weather Practitioner, Mpho Tshisaphungo, and Simera Sense's Ana-Mia Louw. "We are extremely proud of both these bright young stars and the great work they are doing in space weather and space engineering," says Munsami.

While in the region, SANSA visited the NASA Goddard Space Flight Centre and George Mason University to explore further opportunities in global space science.

All of this networking now means that SANSA and the South African science community has the chance to become involved in lunar science experiments, and in studies of space weather impacts on astronauts. There is also an opportunity for SANSA to lead an African experiment aboard the ISS.

Dr Lee-Anne McKinnell, Space Science Managing Director at SANSA, said the Washington D.C. trip strengthened existing international collaborations for SANSA and created new ones.

"SANSA is seen as an active role player in international space science, both in terms of operations and research, and SANSA needs to be proactive in ensuring that we meet international expectations," she says. "The IAC 2019 was extremely beneficial for engaging with high level partners and ensuring that South Africa, through SANSA, is seen as a leading space player in Africa."

SANSA looks forward to building on these engagements at IAC 2020, to be held in Dubai.