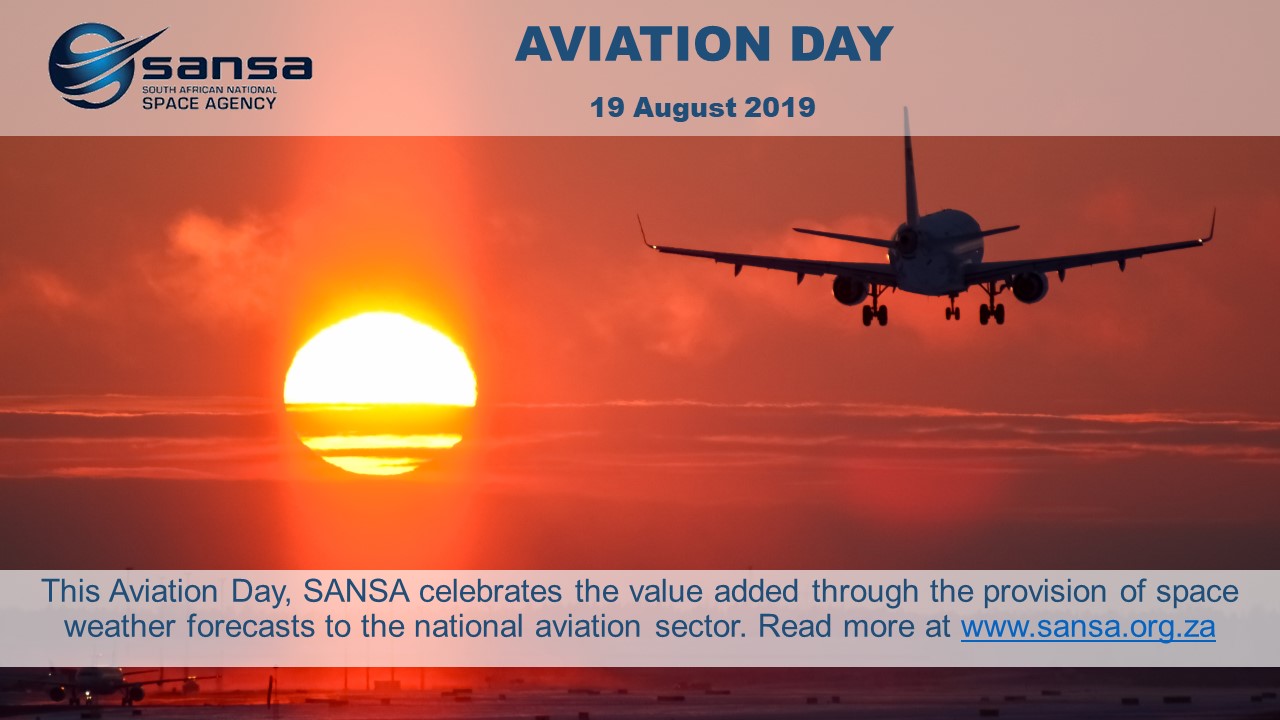 19 Aug

Aviation Day 2019

The South African National Space Agency is the key custodian of two essential aspects of aviation – the 'standard reference' compass against which all aircraft compasses are calibrated, and the provision of space weather forecasts and warnings.

SANSA was recently appointed by the International Civil Aviation Organisation (ICAO) to provide vital space weather services to enable the  aviation industry to comply with crucial recommendations.

Ground based support and aircraft are vulnerable to space weather impacts, primarily in four key areas: communication, navigation, aircraft avionics and radiation exposure. Recognising the need to mitigate space weather impacts on aviation, ICAO passed a recommendation in 2014 regarding the development of space weather information and its integration into global air traffic environment information systems. Such information can only be acquired from designated space weather information providers, which now includes SANSA.

This means that every aircraft flying across the continent's airspace will rely on SANSA for space weather information as part of its flight planning.

"High frequency radio communication, as well as ground and air-based navigation systems, can be affected or knocked out entirely by space weather storms. Delicate electronics can also be damaged, and radiation exposure poses a hazard for crew and passengers, especially for long haul flights," says SANSA Managing Director, Dr Lee-Anne McKinnell. Space weather can also have a major knock-on effect on airlines and airports.

The SANSA Space Weather Regional Warning Centre has been providing the national aviation sector and other stakeholders with vital early warnings and forecasts on space weather conditions since its establishment in 2010.

Space weather monitoring is essential for the improved understanding and forewarning of solar events that could lead to severe space weather on Earth. Although impending space weather cannot be halted, constant monitoring allows for industries that may be affected to go on standby and provides important scientific information to utilise in making necessary decisions.

SANSA will collaborate with the Pan-European Consortium for Aviation Space Weather User Services (PECASUS) f to provide benefit for the country through improved access to international models and expertise, as well as providing European space weather providers with an African perspective.

Former Minister of the Department of Science and Technology, Mmamoloko Kubayi-Ngubane unveiled the upgraded SANSA Space Weather Centre based in Hermanus in the Western Cape in April 2018. This centre has set the stage for SANSA's new role as a leader in space weather safety for the global aviation sector.

Over the next few years, SANSA will be working closely with the Air Traffic Navigation Service, the South African Weather Service, the Civil Aviation Authority and other applicable aviation partners to investigate the implications of the ICAO amendments to the South African aviation sector.

"We need to ensure that the aviation industry understands the risks related to space weather, what to look out for and what to expect. SANSA will ensure that decision-makers in the industry are properly informed and empowered," says Dr McKinnell.

The other key competency of SANSA with direct relevance to general aviation is compass accuracy. Despite the rise of modern navigation systems such as GPS and radio aids, compasses are still an essential component of aircraft navigation equipment. Electrical systems may fail, but the Earth's magnetic field never does. However, it is continuously changing and that requires constant monitoring to determine the degree of compass variation at any specific place.

All aircraft compasses must therefore be swung at predetermined intervals, usually at the annual Mandatory Periodic Inspection or at any time when the magnetic properties of an aircraft have changed, by for instance the installation of new equipment or a direct lightning strike. SANSA's facility in Hermanus is the only SACAA accredited South African facility that offers this type of service with the necessary expertise and facilities to perform training in the compass swing procedure on-site.

"SANSA has been presenting training courses on the execution of compass swings to the South African Air Force for more than 20 years and recently hosted a five day Compass Swing Training Course and a three day Compass Swing Refresher Course. These courses are presented by SANSA engineers and physicists who have many years of relevant magnetic navigation ground support experience," says Dr McKinnell.

This Aviation day, SANSA celebrates the role the agency plays in providing critical services to the aviation sector in order to ensure safe and secure air travel.