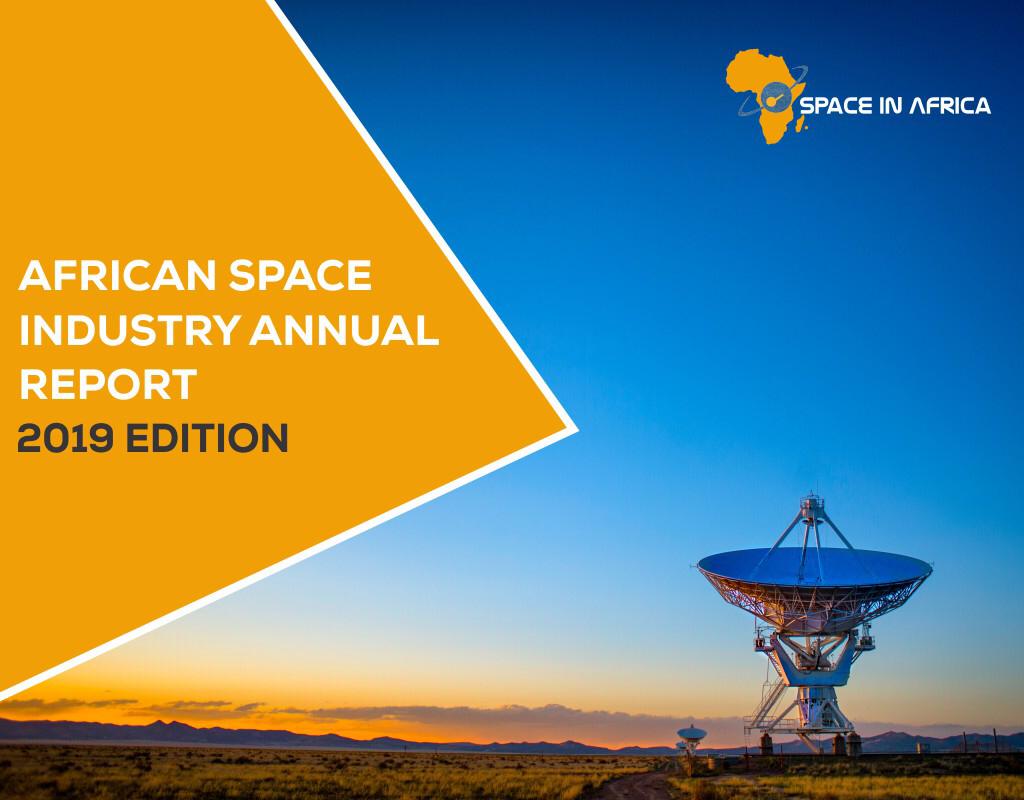 19 Jun

African Space Industry Now Generating Over USD 7 Billion Annually, to Exceed USD 10 Billion by 2024

– Eight African nations have already launched satellites
Lagos, Nigeria, 11 June 2019: Space in Africa, the authority on news, data, and market analysis for the African space industry, has just released the African Space Industry Report – 2019 Edition.
The report covers Africa's journey in space from 1998 through May 2019 and explains how the industry has already reached over USD 7 billion of annual revenues and is projected to grow at a 7.3% compound annual growth rate to exceed USD 10 billion by 2024.
Regional and national space programs and policies in Africa are becoming quite extensive. Already, 19 African countries have national space programmes and there is a booming emergence of commercial companies developing space technologies and offering services in Africa.
Temidayo Oniosun, Founder of Space in Africa, explained the growth of the space sector in Africa:
"​Africa's space industry is currently undergoing a renaissance. All across Africa, governments are investing in elaborate space programmes, revving up the continent's capacity to see beyond pale clouds and harness the inherent power of space technologies. Modern space technologies have the ability to help Africa solve critical problems in agriculture, security, telecommunications and other sectors. Already, some countries have started to benefit. In Mali, satellites are helping nomadic herdsmen find water for their cattle; in Angola and Rwanda, satellites are used to connect rural classrooms to the internet and entertain millions with profitable TV programs across Africa."
35 African satellites launched since 1998
From 1998 through May 2019, 32 satellites were launched in to orbit by eight African countries: Algeria,Angola, Egypt, Ghana, Kenya, Morocco, Nigeria, and South Africa. In addition to the 32 national satellites, African institutions jointly funded three other satellite projects – RASCOM-QAF1, RASCOM-QAF1R, and New Dawn – for regional operations. 15 out of the 35 satellites were launched in the last four years, indicating the skyward growth rate at which Africa is embracing space technologies to power the continent's growth and improve the lives of its people. The diverse satellite programmes include 14 Earth observation satellites, 10 communications satellites, 8 technology demonstration satellites, a satellite for scientific experiments, an educational project satellite, and a military radar satellite.
Increasing private sector activity & over 8,500 people employed in the African space industry
The industry's growth is driven by growing private economies, as complemented by national and regional strategic priorities. The new African Space Agency will complement national space programmes while implementing the continental space policy stipulated under the African Union Agenda 2063. This policy looks to grow the industry with a combination of expertise and products from outside of Africa alongside the expansion of African capabilities to grow the industry for the good of all parties.
African engineers built 14 of the 35 satellites, including those they built in Africa and others using facilities outside of Africa. There are multiplying business opportunities for local and foreign companies across the various sub sectors of the African space industry. The non-African entities closing the most deals on the continent include Airbus Defense and Space (France), China Great Wall Industry Corporation (CGWIC), RSC Energia (Russia), Surrey Satellite Technology Ltd (UK), and Thales Alenia Space (France).
On the smaller end of the scale, a growing collection of New Space startups in Africa have recently attracted investment at over USD 200 million of combined valuation.
About 8,500 people work across the African space industry. Approximately 2,000 of these people work for commercial companies, while the others are employed by governments through national space programmes and research centres.
On the Ground Insights
The African Space Industry Annual Report is published by Space in Africa, the premier source of space-related news from Africa. Space in Africa has reporters stationed in Kenya, Nigeria, South Africa, Rwanda, and Tanzania who travel around the continent to provide news, analysis, and data on all aspects of the market.
For Further Information ​The 166 page African Space Industry Annual Report is a must-read for any newcomer to the industry and a treasure trove of information for anyone committed to having a stake in the multi billion-dollar industry. Designed to provide a comprehensive understanding of the space sector in Africa, the report analyzes regional and national space programs and policies in Africa. The report further explores 19 African countries with national space programmes and profiles the commercial space companies that are developing space technologies and offering services in Africa.
The report is available on​ www.africanews.space ​
For information on the report or more information on the African space industry,​ e​mail info@africanews.space or call our Lagos bureau at +234-906-836-9665.