26 Apr

SANSA scientists return from the ice

Without the dedicated engineers who operate and maintain the scientific instruments in Antarctica, much of SANSA's work would be impossible. This is according to Space Science Researcher, Dr. Amoré Nel, who recently returned from an almost four-month stint on the icy continent.

"The experience was absolutely amazing; it's hard to describe. You don't know what to expect until you're there," she says. "It was a lot of hard work, but also a lot of fun, and I would recommend it to anyone who is interested in space science and what it entails."

Just getting to Antarctica can take up to three weeks by ship. Nel boarded the SA Agulhas II on 6 December 2018, and says it took her quite a few days to get her sea legs. "I advise anyone going in future to pack motion sickness medication!"

Nel was a SANSA volunteer and a part of the 2018/2019 Take-Over team to the SANAE IV base. South Africa is the only African country with a permanent base in Antarctica.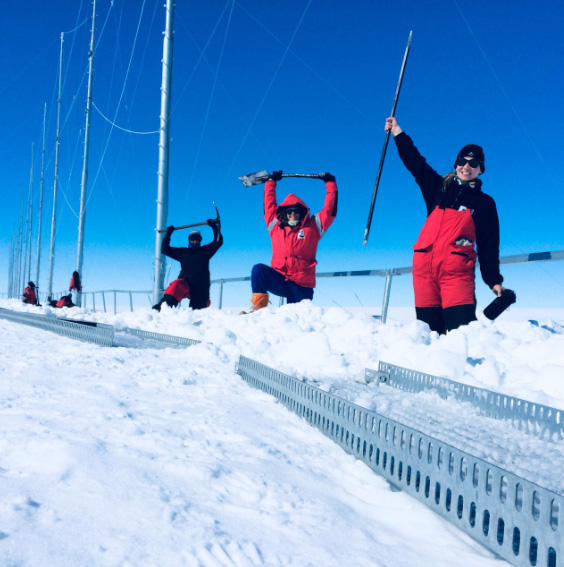 One of Nel's main tasks in Antarctica was to assist with laying new cables for the SuperDARN radar antenna,  one of approximately 35 similar instruments located in the mid to high latitudes of both hemispheres that keep an eye on the Earth's upper atmosphere. This often meant having to spend many hours working outdoors and digging trenches.
Despite Antarctica's often unforgiving weather, Nel says the team was lucky to have enough good weather to finish their work ahead of schedule. They used the extra time there to maintain SANSA's other scientific instruments, such as magnetometers and the Very Low Frequency receiver.
These types of tasks were a big motivator for Nel to volunteer her services in the first place. "It is such a harsh environment," she says, "but for me, it is important to understand what it takes to maintain the scientific instruments and to understand where the data we use as scientists comes from.
"I was lucky to be part of such a great team who worked well together under challenging conditions," says Nel. "Knowing now what it takes to maintain the instruments, I have a lot of respect for the SANSA engineers who overwinter every year and live there for 14 months at a time.
"As a researcher who works with this data, I thank them for all that they do for us."