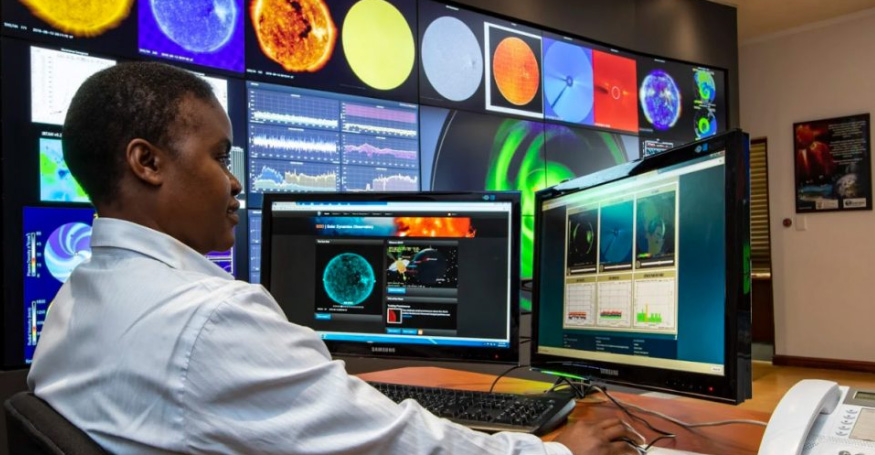 26 Apr

Global aviation sector calls on SANSA to watch for adverse space weather

SANSA was recently appointed by the International Civil Aviation Organization (ICAO) as one of two regional centres (and one of five globally), to monitor space weather. This will provide the global aviation sector with crucial safety-related services like solar storm forecasts and warnings.

Solar storms and other space weather events can have a catastrophic impact on multiple global systems because modern communication, finance and power systems are deeply interconnected. If not handled correctly, these could cause major failures in the communication, navigation, energy and aviation sectors, with potentially disastrous effects on human lives and the global economy.

South Africa's appointment to ICAO builds on nine years of space weather services development at SANSA, operating out of the Space Weather centre based in Hermanus. This centre was recently upgraded and unveiled by the Minister of Science and Technology, Mmamoloko Kubayi-Ngubane.

"SANSA has been providing the country with vital early warnings and forecasts on space weather conditions, and these benefits will now be extended to the international aviation community," said Kubayi-Ngubane.

"South Africa's designation as a regional space weather information provider will grow the science, engineering, technology and innovation sector, offering opportunities to develop scarce skills and increase national research output, while ensuring that usable products and services are generated for the safety and prosperity of the nation," she says.

Dr Lee-Anne McKinnell, SANSA Managing Director, explains that space weather poses risks in four key areas of the aviation sector: communication, navigation, avionics, and radiation exposure.

"High frequency radio communication, as well as ground and air-based navigation systems, can be affected or knocked out entirely by space weather storms. Delicate electronics can also be damaged, and radiation exposure poses a hazard for crew and passengers, especially for long haul flights," she says.

The impact doesn't end there, however; space weather can have a major knock-on effect on airline companies and airports.

To address these risks, ICAO has recommended that the aviation sector becomes familiar with the impacts of space weather, and ensures that space weather information forms a part of all flight plans in the near future.

"The international community has supported South Africa's ICAO designation, and has demonstrated confidence in SANSA's ability to provide the services required. The process that SANSA underwent to achieve this designation has already enhanced South Africa's reputation in the space science and technology field," said Kubayi-Ngubane.

This involved an extensive accreditation assessment. The final selection process took place at a recent ICAO Council meeting, where three global centres (USA; Pan-European Consortium PECASUS; and the Australia, Canada, France and Japan Consortium) and two regional centres (South Africa and a joint centre by Russia and China) were selected. The global centres  are already delivering on ICAO's requirements, while the regional centres have until 2022 to build the needed capacity.

SANSA will partner with the Pan-European Consortium for Aviation Space Weather User Services (PECASUS), a nine-country collaboration, to provide ICAO with space weather information for the African region. Partnering with PECASUS will connect the South African space industry to international models and expertise.

Over the next few years SANSA will be working closely with the Air Traffic Navigation Service (ATNS), the South African Weather Service (SAWS), and the Civil Aviation Authority and other applicable aviation partners to implement ICAO recommendations to the African aviation sector.

"We need to ensure the aviation industry understands the risks related to space weather, what to look out for and what to expect. SANSA will ensure that decision-makers in the industry are properly informed and empowered," says McKinnell.