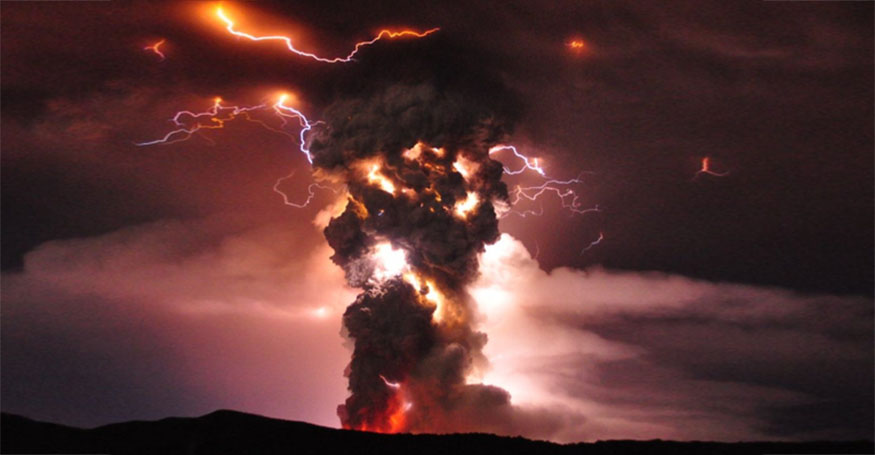 14 Nov

Studying volcanoes and climate change from half a world away

One does not simply walk into a science career, as Dr Lerato Shikwambana can attest. His career has been about taking the opportunities that were presented to him, like the eruption of a volcano in South America that reached across the ocean to affect South Africa and pique his interest half a world away.
Shikwambana has had a strong passion for science since high school, where he did well in his science subjects in Grade 11. "I saw I was good at it, and I knew back then that I wanted a career in science but I was not sure what that meant exactly," he says. So he registered for a BSc at the University of the Witwatersrand and took a liking to physics.
"I struggled a lot with mathematics as it was not as easy as I thought."  Through hard work and determination he overcame his challenges and went on to pursue an Honours degree in physics at Wits. While he was employed part-time for a holiday programme at the Centre for Scientific and Industrial Research (CSIR), he was offered his next career move.
"They liked me there and they offered me a place for a Masters studentship programme," he says.
A year after completing his Masters, Shikwambana registered for a PhD at the University of KwaZulu Natal in conjunction with the CSIR. During that period, his  research at the CSIR National Laser Center (NLC) was focused on studying aerosols and clouds using the home-built CSIR LIDAR system. However, restructuring at the CSIR NLC resulted in the cancellation of the LIDAR project.
It was at this point that Shikwambana got a job at an IT company as a project coordinator. "I travelled a lot to Durban to do my experiments and attend conferences, the company gave me that flexibility."
His PhD involved understanding how aerosols move in the upper atmosphere, research that involved modelling and data collection with a light detection and ranging (LIDAR) system, skills that would come in handy later. He quit his job to focus on his PhD, which he completed on his birthday in September 2017.
He then joined SANSA as a post-doctoral researcher where he pursued research into aerosol levels of SO₂ gas over South Africa. "This was the best way for me to get back into professional research."
He was looking into how the levels of SO₂ gas over SA changed every year and noticed something strange. "We know that airborne SO₂ can be found in the Mpumalanga region because there are a lot of power stations there," he says. "However in 2015, we noticed that it had spread out to other parts of the country, which had unusually high amounts of the gas."
Using a backward trajectory model, Shikwambana figured out that the SO₂ gas had originated on the other side of the Atlantic Ocean in South America. "It happened to be in Chile; we found that there had been a volcanic eruption and I thought that this could be the source we are looking for."
In a paper published in the South African Geographical Journal, he partnered with Prof Venkataraman Sivakumar to trace the path of the SO₂ gas and other volcanic aerosols using data from a variety of satellites and ground-based instruments, including a special kind of LIDAR called CALIPSO.  They showed that the sudden increase of SO₂ over South Africa in April 2015 was a direct result of the Chile volcanic eruption.
The Calbuco volcanic eruption of April 2015 released volcanic aerosols (including SO₂ gas) into the stratosphere. The properties of these aerosols, such as reflectivity, can have direct impacts on global climate; for instance they can increase cloud seeding. This kind of research is important for understanding the effects of such eruptions in other regions of the world, even where there are no volcanoes (South Africa's nearest active volcano is thousands of kilometers south, near Marion Island).
Looking forward, Shikwambana wants to study the aerosols that were released during the devastating Knysna fires of June 2017. "I'd like to conduct research from a South African context. There is not much research into this field being done in our country, so I want to contribute to that," he says.
"My colleagues and I are looking at the makeup of aerosols that were emitted during the fires, how they were transported, and like Calbuco, how it is affecting our climate."