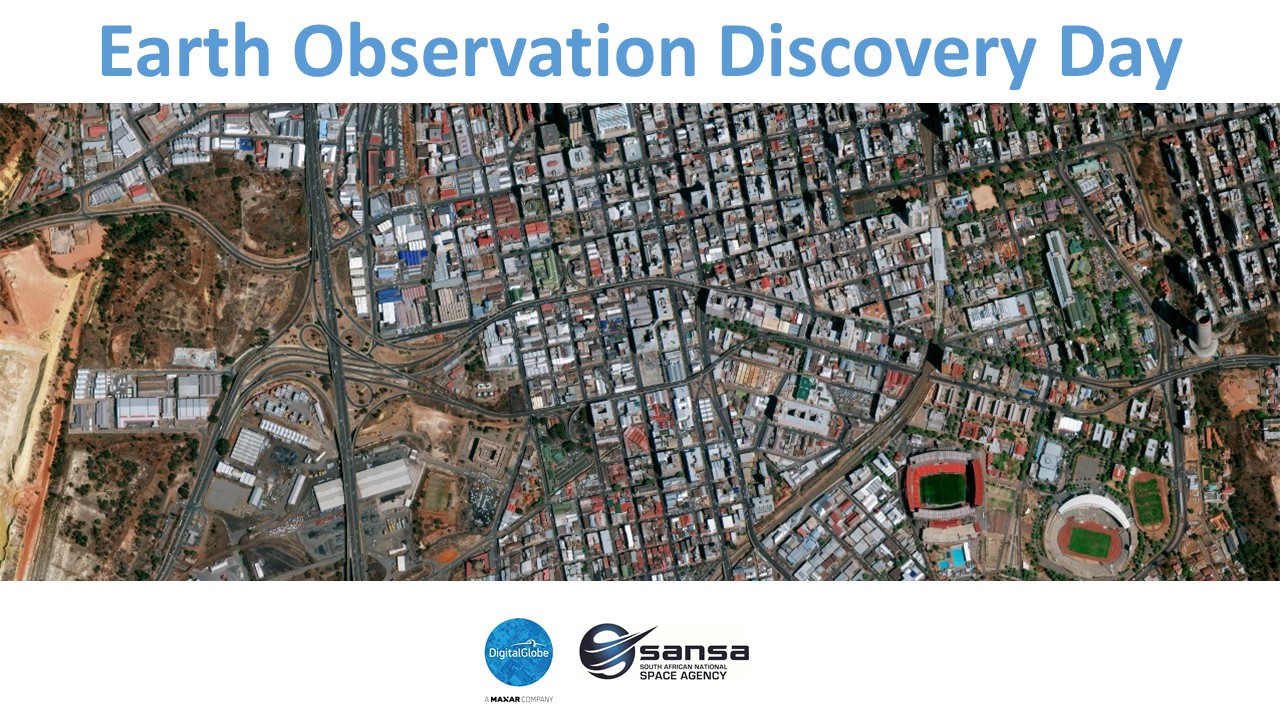 31 Aug

SANSA launches Open Innovation Challenge on Earth Observation Discovery Day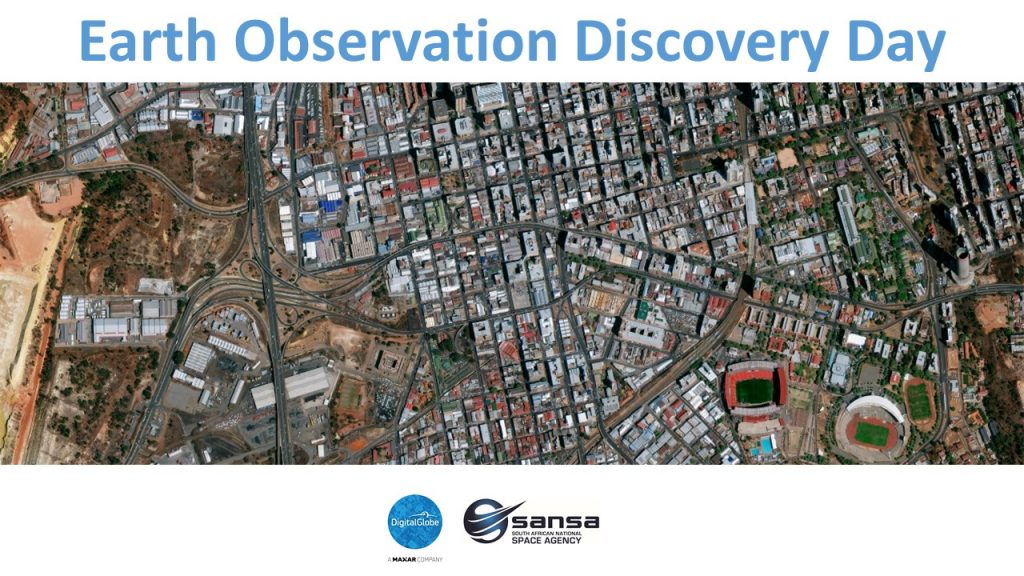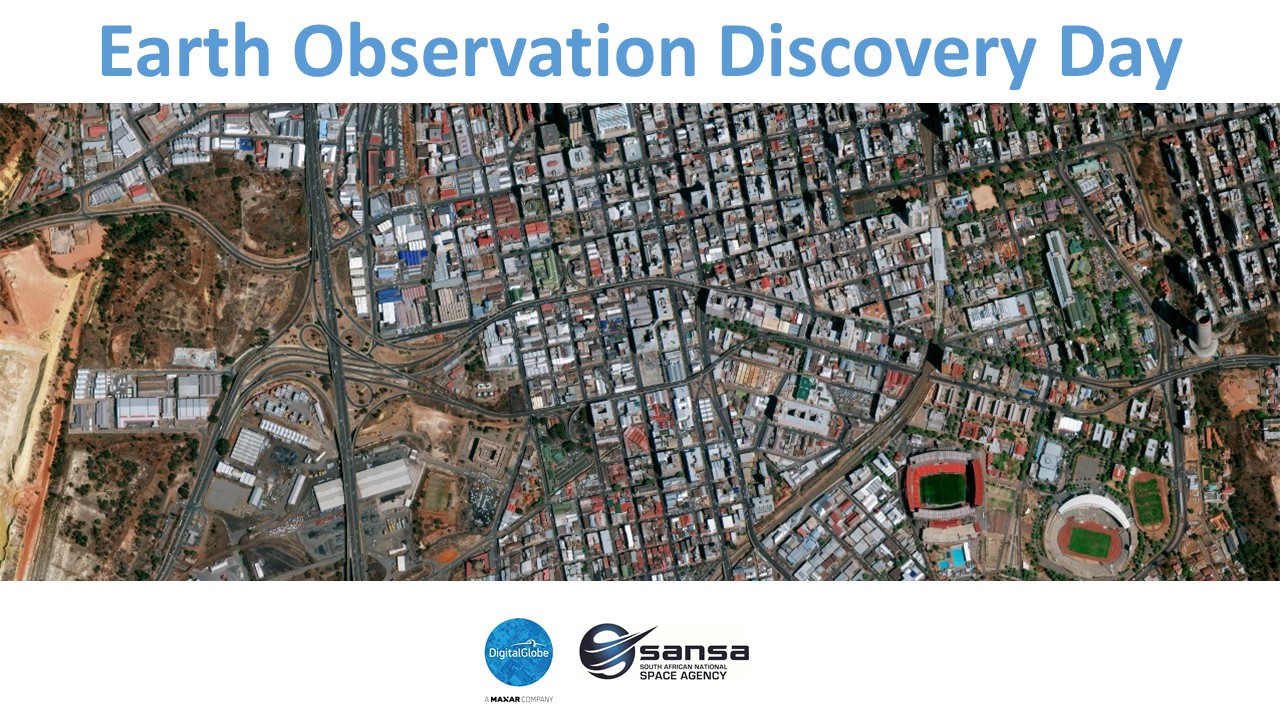 The South African National Space Agency (SANSA) together with Digital Globe hosted 'Earth Observation Discovery Day'. The one-day event was held on the 31st July 2018 and brought together 50+ professionals from government, research institutions and private organisations with interests that span across different industries such as agriculture, telecommunications, and mapping. The aim of the event was to "create national awareness of the value of geospatial information in national development".
The event kicked off with a welcome address by SANSA Earth Observation (EO) Managing Director Ms Andiswa Mlisa, who recapped the importance of SANSA's mandate and provided an outline of the SANSA Earth Observation turnaround strategy highlighting the importance of Earth observation technology and satellite imagery in supporting government priorities and global agendas beyond 2030. Mlisa stressed that SANSA intends to play the enabling role for the EO sector in the country and that SANSA cannot do everything on its own, hence one of its strategic values shall promote sector "co-opetition" (collaboration, coordination, cooperation and competitiveness), including commercial sector and all role players in the EO community in order to shape South Africa's EO programme.
DigitalGlobe representatives Alex Fortescue, Jeremy Bercher and Paulo Godinho demonstrated the cloud based EarthWatch solution and the Geospatial Big Data platform (GBDX) which offers built-in cloud processing, software, image processing, automated change detection tool and remote sensing algorithms. As one of the speakers Mr Fortescue's topic was on "Unlocking the value of geospatial data, which focused on the information which can be gained from high resolution satellite imagery and the various applications derived from it which can be used in addressing government needs.
This was followed by presentations by government users who have used the cloud based system in addressing their legislative mandate. Mr Sibusiso Langatshe & Ms Oteng Dhlamini both from Statistics South Africa (Stats-SA) and Mr Hadley Remas from the Housing Development Agency (HDA) demonstrated how they have used GBDX and emphasized on the need of high resolution satellite imagery in the housing sector. These users indicated some of the challenges with the cloud based system GBDX platform such as data security, bandwidth and restriction on data downloads in government department. The participants emphasised the need for the South Africa EO community to approach the cloud based systems with consideration of both the challenges listed and also the global changes on how remote sensing is conducted and data is delivered and the benefits the platforms bring addressing data dissemination and access issue.
SANSA and DigitalGlobe believe there is significant scope to increase the use of Earth observation applications in both the public and private sphere, within South Africa. This will lead to a range of benefits, both in terms of commercial competitiveness as well as societal benefit. In order to achieve these outcomes, SANSA and DigitalGlobe are searching for novel uses of Earth observations gathered by satellites. The open innovation challenge therefore calls for novel applications for Earth observations gathered by satellites. It is open to any South African citizen, whether an experienced space entrepreneur or someone who can envision how this data can be used to address issues around food security, water security, environmental sustainability and building urban resilience. Participants can register on https://saeochallenge.com/ which also contains a submission support page and details regarding the challenge.