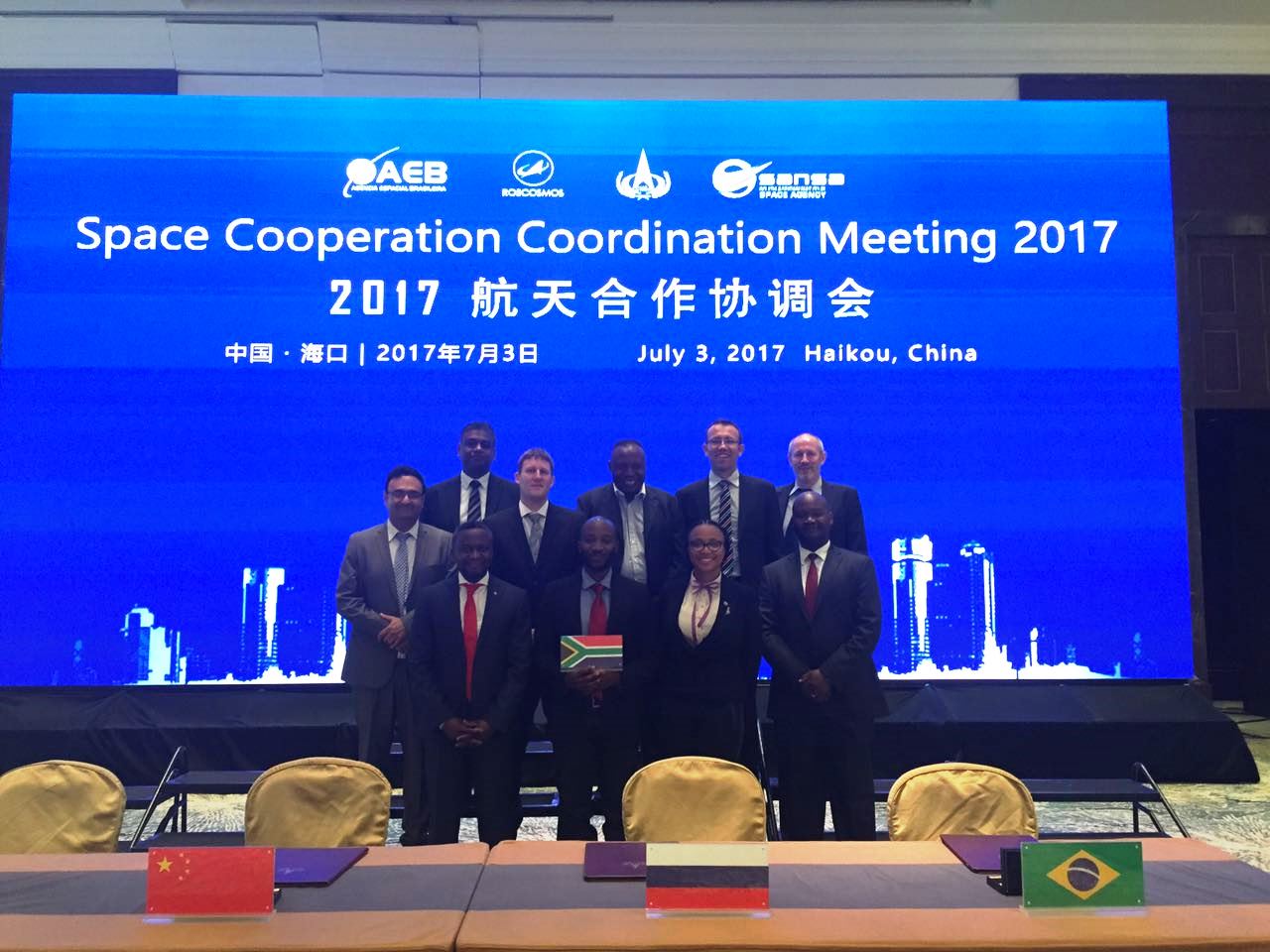 04 Jul

SA joins BRICS Remote Sensing Satellite Constellation

The South African National Space Agency (SANSA), the Brazilian Space Agency (AEB), the State Space Corporation "Roscosmos" (ROSCOSMOS), the Indian Space Research Organization (ISRO) and the China National Space Administration (CNSA) have today formally joined forces to create the BRICS Remote Sensing Satellite Constellation.

A Joint Committee Meeting was held in Haikou, China, on 3 July 2017 to review and deliberate on the progress of the BRICS Remote Sensing Satellite Constellation and to discuss a Draft Agreement to be signed later this year. It was stressed that the BRICS Satellite Constellation is the first substantive project in the field of space cooperation.

There are two Phases proposed for the BRICS Remote Sensing Satellite Constellation, namely, Phase 1 comprising of a virtual constellation of existing satellites, and Phase 2 to comprise of a new satellite constellation to be discussed and defined in the near future.

The intention of the virtual constellation is to establish the remote sensing data sharing mechanism and avail to the partners, space solutions that meet the challenges faced by humanity, such as global climate change, major natural and technological disasters and environmental protection.

"We remain committed to ensuring the integration of African space-based knowledge and technology in improving the lives of fellow Africans and welcome such esteemed partners in achieving this important objective.' said Dr Valanathan Munsami, SANSA CEO at the meeting.

There is a consensus that the BRICS Remote Sensing Satellite Virtual Constellation is a practical step towards high-tech cooperation between these countries that will assist in attaining the sustainable development goals and challenges pertaining to our respective economies and societies. This will also inject new vitality into the strategic partnership among BRICS States.