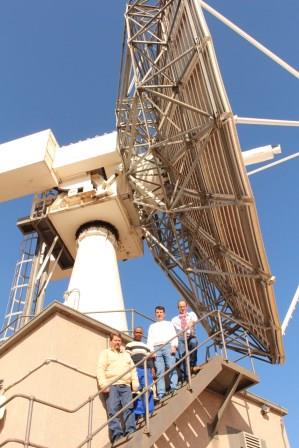 07 Jun

A successful orbit delivery & tracking
On 1 JUNE 2017 – Japan deployed the first of three navigation satellites it intends to launch in the next year, sending a 4.4-ton (4-metric ton) spacecraft on the way to a high-altitude orbital perch on top of an H-2A rocket to improve positioning data for drivers, hikers and government agencies in East Asia.
SANSA was contracted to provide Transfer-orbit support services (TOSS) for the QZS-2 satellite for launch plus one day.
To successfully carry this task, the agency had to utilise the HBK-07 KU antenna, which was originally installed in 1998, with its control system literally at the end of its operational life-span and without any support from manufacturers.
The high customer demand of the KU band antenna necessitated an urgent system upgrade which under normal circumstances would take a few months. Taking into account the technical requirements and a very strict installation period in which the upgrade and commissioning had to be done, the project was finalised within one month.
The technical team worked tirelessly under immense pressure for three weeks dismantling the old control and drive systems with motor encoders and cables removed. A new drive system with servos, motor, encoders, antenna control system and tracking receiver were then installed.
For the first two weeks, the focus was on the hardware installation, and in the third week all systems were systematically powered up by Zodiac (an antenna manufacturing company) so as to get the antenna commissioned in time for the contracted TOSS support.
The Japanese-built navigation satellite, named Michibiki 2 (which means "guiding" or "showing the way" in Japanese), began its climb into orbit at 0017:46 GMT Thursday, 1 June (8:17:46 p.m. EDT Wednesday) aboard an H-2A rocket launched from the Tanegashima Space Center in South Western Japan. SANSA successfully acquired the satellite with the newly retrofitted Ku band antenna at -01:27GMT on 1 June; with the manoeuvers scheduled to be executed in subsequent days.
HBK was then released from support on 2 June at 13:30GMT.
"SANSA wishes to extend a word of gratitude to the project team: Pieter van der Merwe, Frikkie Meyer, Rudi Kamstra, Thabo Moralo, Philemon Ramela, Steven Tshefu and Willem van Rooyen," and all the support services said Space Operation Managing Director Raoul Hodges. "Your efforts, team work, exceptional level of professionalism, and ensuring that we deliver on our customer service promise is highly appreciated," concluded Hodges.
Michibiki 2 is the second member of a four-satellite regional navigation network the Japanese government is deploying over the Asia-Pacific.
For more on this story, visit: https://spaceflightnow.com/2017/06/01/japanese-navigation-craft-successfully-delivered-to-orbit/