28 Mar

Shooting Stars

SANAE 55 team returned from the Ice

The SANAE 55 team returned in February 2017 from their 14 month stay at the South African Antarctic research base SANAE IV.  SANSA Engineers, Paddy Riley and Parikshit Bohra, successfully carried out routine maintenance on SANSA's space weather and magnetic field monitoring instruments, ensuring important space science data was recorded for use by SANSA and international research networks.

Another eye towards the sky – unveiling South Africa's Optical Space Research Laboratory

SANSA's robust endeavours to strengthen the country's role in multinational space science research, this time specifically in upper-atmosphere studies, come to fruition with the unveiling of the Optical Space Research (OSR) Laboratory at the South African Astronomical Observatory (SAAO) in Sutherland on 6 April this year.

This state-of-the-art facility will be used for research and to host space monitoring projects with national and international partners. The laboratory houses specialised research equipment, including an airglow imager to observe atmospheric gravity waves in the mesosphere through a variety of wavelengths; night-vision video cameras to observe sprites in white-light and multiple wavelengths; an extremely low frequency (ELF) receiver to observe lightning and sprites in the ELF spectrum; a mesospheric temperature mapper to estimate mesospheric temperature, a satellite-based augmentation system (SBAS) receiver for aircraft navigation and a space debris tracking telescope as part of Small Aperture Robotic Telescope Network (SMARTnet), a dedicated sensory network based on telescope systems.

Read more about it here.
Novel radar and optical observations of black auroras in the upper atmosphere
Black auroras are regions of the sky where auroras are expected but do not appear. They are observed either as small patches or black rings that drift, mainly eastward; or as thin black arcs with specific motions and vortices. Black auroras, whilst commonly observed at high latitudes, remain a mysterious part of our space environment whose mechanism is still unknown.
Black auroras are visible thanks to instruments like EISCAT, the world's most sophisticated incoherent scatter radar system, located in Finland, Norway and Sweden. EISCAT can study a wide range of geophysical phenomena in the ionosphere, including black auroras. For this research, the EISCAT electron energy data is combined with optical data to shed light on this mysterious auroral phenomenon.
SANSA researcher scoops prestigious space science award
Dr John Bosco Habarulema, a space science researcher at SANSA, is one of two winners of the prestigious 2016 Africa Award for Research Excellence in Space Science from the American Geophysical Union (AGU).
Established in 2015, these twin awards – in space science and Earth/ocean sciences – recognise early-career scientists from the African continent for outstanding contributions to research in Earth and space sciences. Read more here.
Habarulema also received the 2014 International Sunanda and Santimay Basu Early Career Award in Sun-Earth Systems Science for his scientific contributions to the areas of ionospheric physics and space weather and contributing to efforts to develop space science education and research in Africa. He is the first African to receive this prestigious award from the American Geophysical Union. Read more about it here.
John is a Y1 NRF rated researcher and holds a MSc and PhD in Space Physics. He is also working on understanding the physical mechanisms driving ionospheric and plasmaspheric electrodynamics over the African region.
SANSA research portal goes live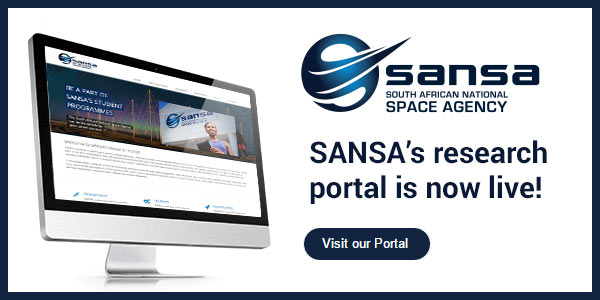 The South African National Space Agency (SANSA) is recognised as a leader in space science and technology, playing a key role in monitoring the near-Earth space environment and forming part of the worldwide network of space weather centres and magnetic observatories. Research at SANSA falls under four main programmes: Earth Observation, Space Science, Space Operations and Space Engineering. Within these areas, there are study opportunities in remote sensing, Earth system science, geospatial programming, Antarctic research, climate change, space weather and ionospheric physics, aerospace and electronic engineering, computer science, software development and systems engineering.
Check out our research portal for more information on SANSA research projects and student opportunities.
Studying the ionosphere's response to solar storms
A recent paper published by a SANSA Phd student, Tshimangadzo Merline Matamba, has described  the behaviour of the ionosphere in Southern and Northern Hemisphere midlatitude regions using data for the African and European sectors . The article forms part of Matamba's Phd project under Dr John Bosco Habarulema, which is looking at  the link between solar activity and specific types of ionospheric storm. Matamba hopes that her work will help improve predictions of space weather storms over Africa, which may help limit their effects on ground-based technological systems.