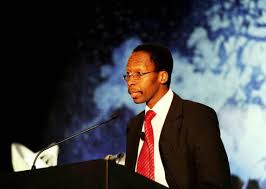 12 Jul

Farewell to SANSA CEO

After spending more than a decade in the South African space science and technology sector first as a researcher and then as senior manager/executive, Dr Sandile Malinga, Chief Executive Officer of the South African National Space Agency (SANSA), will be leaving SANSA to expand his horizons at another South African company with effect from 1 September 2016.

Highly-respected in South Africa, and highly-accomplished, Dr Malinga is recognised for his contribution to SANSA, since its inception, through visionary, innovative and effective business strategies and operational plans that have enabled significant and progressive transformation. While carrying out his management roles at SANSA he has produced a number of postgraduate students including two doctoral graduates.

With a PhD in Physics, and as a space physics researcher, Dr Malinga is well published and quoted in recognised international scientific and technology journals: testimony to his expertise in his field. He has contributed significantly to the achievements of the space agency and provided direction and leadership to staff and stakeholders as the first CEO of the Agency.
We appreciate the hard work and commitment displayed by Dr Malinga during his tenure and we wish him a successful future in his new role as we also look forward to continuing our contribution to society under new leadership.