15 Apr

SANSA signs an MoU with DPSA
SANSA signs a Memorandum of Understanding with the Department of Public Service and Administration (DPSA)
SANSA CEO, Dr Sandile Malinga and the Director General of department of Public Service and Administration, Mr Mashwahle Diphofa signed a Memorandum of Understanding (MoU) on the 30th April 2016.
SANSA CEO Dr Malinga and DPSA DG Mr Diphofa signing the MoU.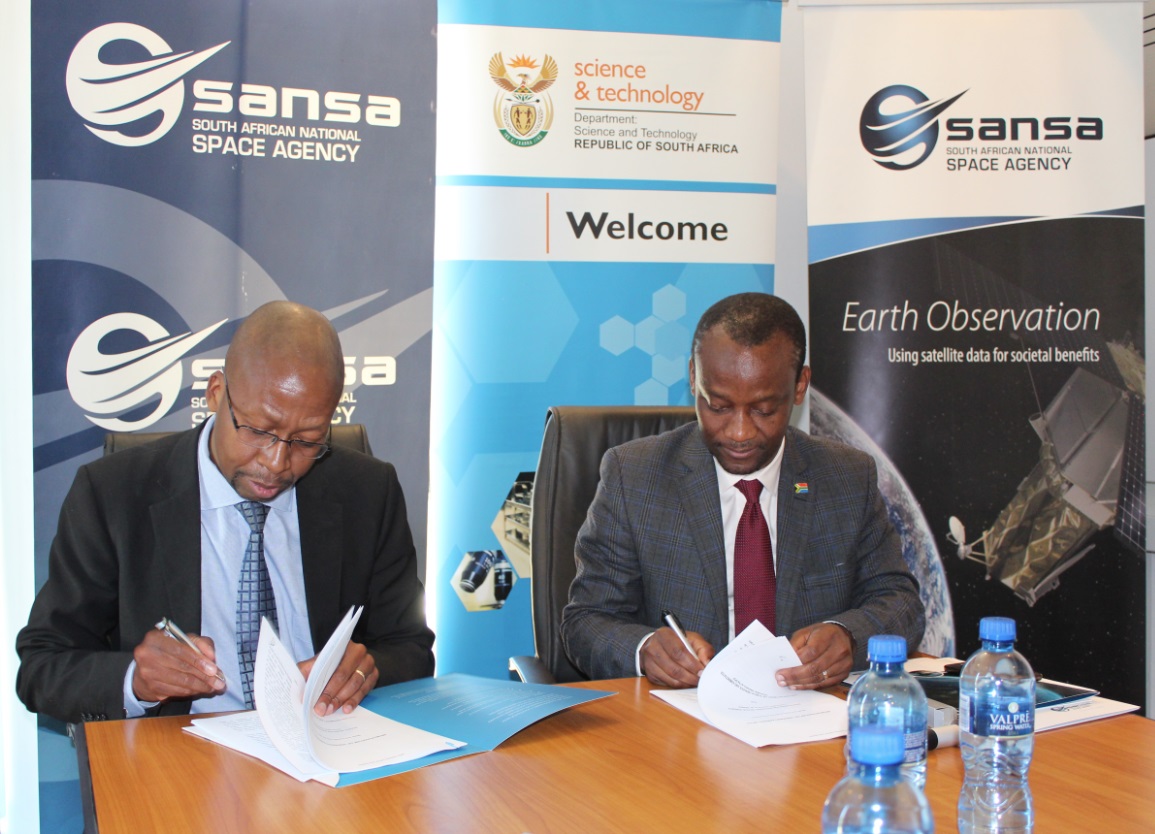 SANSA CEO Dr Malinga and DPSA DG Mr Diphofa signing the MoU
The MoU underpins SANSA's strategic goal to address South Africa's challenges through space services and products.
Explaining the significance of this signing, in his welcoming address, Dr Malinga said "This is a very important engagement from our side – it has been long coming, we are delighted to have you here and we are very excited that we have come thus far. We see the DPSA as a key government department; therefore we believe that this partnership we are establishing today will foster greater integration and assimilation of what we do here at SANSA into the public sector". Echoing the sentiments of Dr Malinga, the DG of DPSA Mr Diphofa said "We are very happy that this long overdue partnership is finally formalised – a few years ago we established a branch in DPSA for policy research. Amongst the things we trying to do through this branch is to oversee policy formulation, policy implementation and work around the norms and standards. All these are in the interest of public service because we need to have informed service delivery planning. So we look forward this partnership with you to assist us in this process."
The signing ceremony was attended by a high level delegation from SANSA, DPSA and the Deputy Director General for Technology Innovation in the Department of Science and Technology, Mr Mmboneni Muofhe.
The senior management from SANSA, DST and DPSA
The essence of the MoU is an agreement that SANSA will provide Earth observation products and services (images and data) to the DPSA.
Speaking on behalf of the department of Science and Technology, DDG Muofhe remarked that "It is quite an exciting moment for us. As a department we had realised that the role of science, technology and innovation goes beyond what we may have believed in the past that it is a secluded area of work from where people like us cannot benefit. I do think that the economy as big as ours cannot afford not to tap into the scientific evidence to inform decision-making and planning. I am really looking forward to the implementation of this MoU."