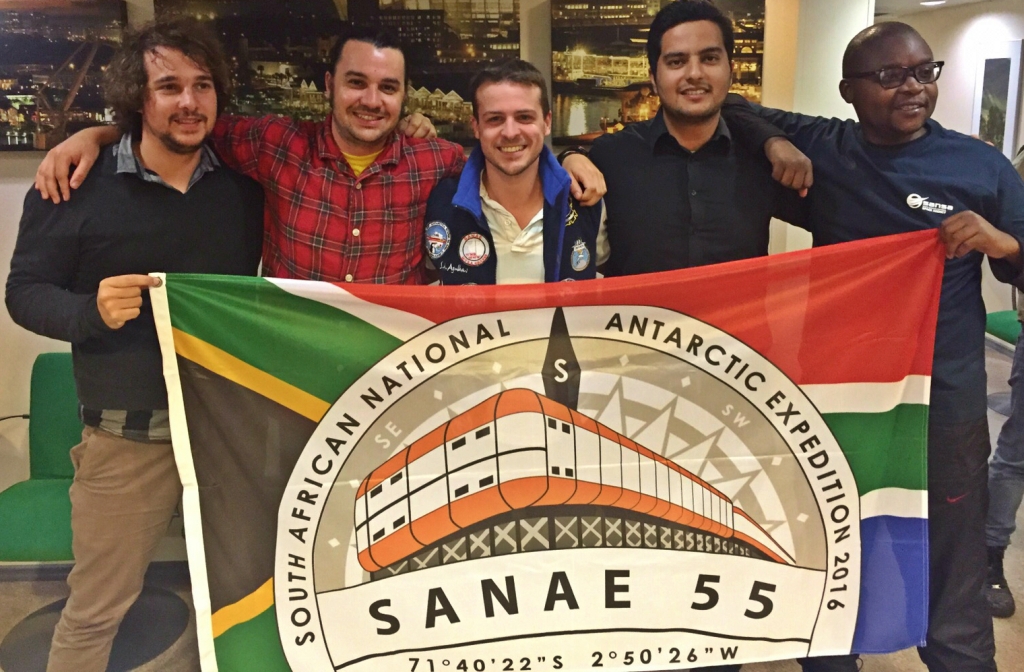 07 Dec

Antarctic team heads for the Ice
The departure of the 55th Antarctic expedition aboard the SA Agulhas II on 5 December this year marked a milestone for SANSA Radar Engineer, Jon Ward, who will be spending his 5th consecutive summer in Antarctica. Jon has been appointed as the SANSA engineering team leader and Chief Land-based Scientist for the entire voyage. He will assist the new overwintering engineers, Padraig Riley and Parikshit Bohra, take over from the departing team.
Despite a few delays to their departure, the team hopes to arrive at the base in time for Christmas, where they will spend the next six weeks conducting routine maintenance and performing critical repairs to the SuperDARN radar. According to Jon, "the main antenna array sustained severe damage due to extreme weather conditions and we will all be working hard to get the repairs done before the ship departs at the end of January 2016."
The team will also deploy a new GPS experiment called DemoGRAPE. This is a collaborative project with the Italian institute INGV, to improve the accuracy of GPS navigation in the Polar Regions. The DemoGRAPE equipment consists of two new technology GPS ionospheric scintillation monitors and a Software Defined Radio receiver. The receivers will feed data into a Cloud-based computing system (Internet-based computing) to provide a superior platform for data sharing among partner organisations and the scientific community. One of the Cloud nodes will be setup at SANSA in Hermanus, with the other nodes being at INPE in Brazil and at INGV in Italy.
The overwintering team consists of 10 people (a doctor, electrical engineers, mechanical engineers, diesel mechanics and a meteorologist) who will live at the Antarctic base for 14 months. Padraig and Parikshit trained at SANSA for three months to learn about the SuperDARN radar transceiver boxes. "I can now build one up basically from scratch if anything were to go wrong with the existing equipment," said Padraig.
The training also included fire-fighting, first aid, rope work, crane operation and even basic cooking lessons, to ensure they don't go hungry. "We have to be prepared to face anything the Antarctic environment may present on an expedition like this. Not only do we need to be prepared physically for the harsh environment, but also mentally for the long period of isolation," said Parkishit.
The engineers will keep a close eye on SANSA's space monitoring equipment over the next year to ensure that important research data is transferred to the facilities in Hermanus and other global networks.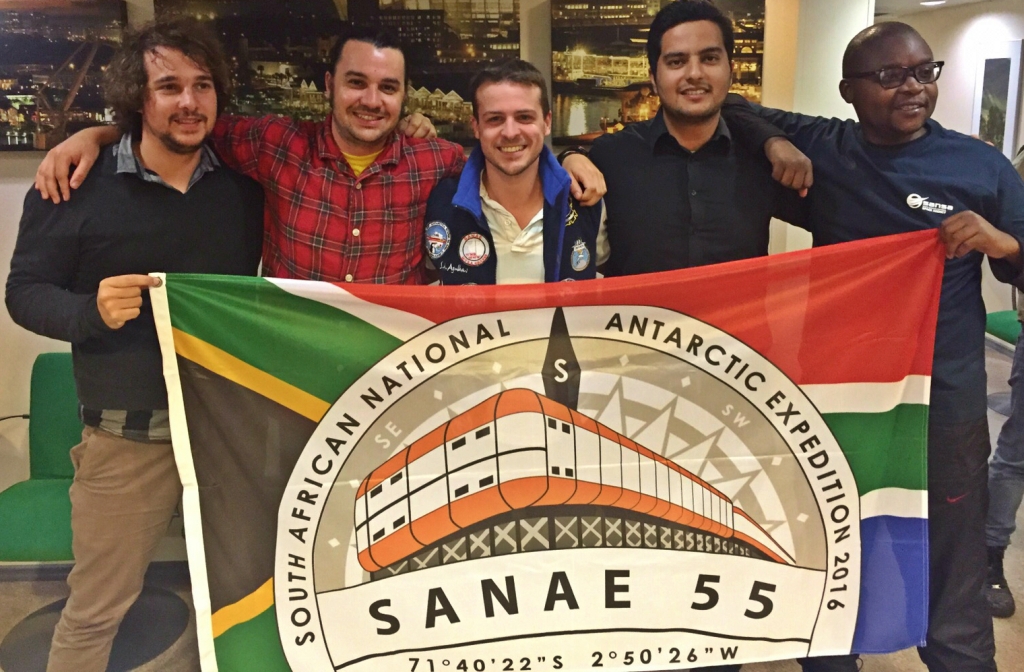 Meet this year's team! Hardie Pienaar, Padraig Riley, Jon Ward, Parikshit Bohra and Anthony Mokgolo, aboard the SA Agulhas II on their way to Antarctica