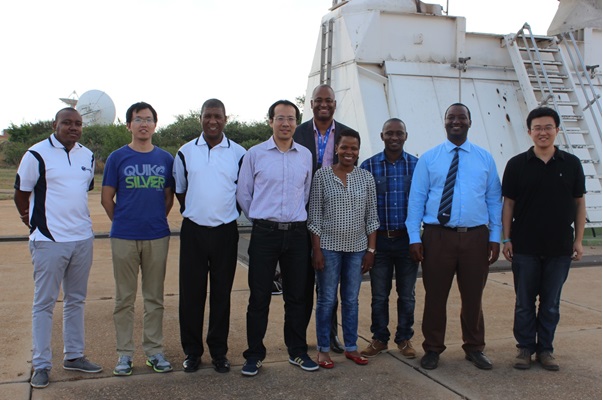 22 Oct

SANSA installs the new Earth resource terminal: CBERS-04
14 October 2015 – The reception and installation of CBERS-04 terminal by China's Centre for Resources Satellite Data and Application (CRESDA) supported by SANSA staff, is yet another significant milestone in the agency's quest to position itself as a recognized global space citizen. In 2008 the South African National Space Agency (SANSA) and the China Centre for Resources Satellite Data and Application (CRESDA) signed a memorandum of understanding (MoU) to enable SANSA to directly receive, process, archive and distribute CBERS satellite data free-of-charge to the EO community across Africa.
China-Brazil Earth Resources Satellite (CBERS) is a technological partnership between China and Brazil (the National Institute for Space Research in Brazil (INPE). This collaboration develops programmes that operate remote sensing satellites. The CBERS-04 Satellite Data Rapid Processing system is mainly responsible for conducting real-time and rapid processing of data, among the many of its major tasks. The overall objective is the observation and monitoring of the Earth's resources and environment with a multi-sensor imaging payload providing different spatial resolutions.
The CRESDA team from China, led by Mr Wang Zhizhong and the SANSA team led by Dr Tendani Lavhengwa worked overnight to ensure that the system is successfully installed and tested. This is a significant project because this installation means that all African countries will benefit from the CBERS-4 data and is a major contribution to GEOSS (Group on Earth Observation System of Systems) and AfriGEOSS (African Group on Earth Observation System of Systems).
Benefits and applications of the CBERS-04 include:
Vegetation,
Agriculture,
Water,
Disasters, and
Human settlements
All relevant government departments, Statistics SA and academic institutions will benefit immensely with the use of this data.
Three diplomats from the Chinese embassy in SA also visited the ground station to see the project. They were also taken on a ground station orientation and were shown the two antennas used for CBERS-04 data reception. With the completion of the installation, CBERS-04 data is now available for ordering at SANSA's Customer Service by contacting Ms Nomnikelo Bongoza at nbongoza@sansa.org.za or customers-eo@sansa.org.za.