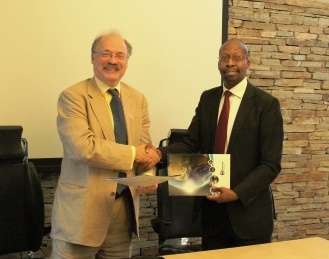 23 Jul

A Whole Extra Second for 2015!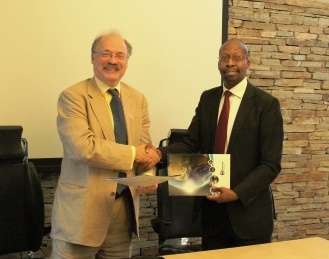 On 16 July, Sir Mark Walport, the UK Government Chief Scientific Adviser, on behalf of the UK Space Agency signed a Memorandum of Understanding (MoU) with Dr Sandile Malinga, CEO of the South African National Space Agency. Sir Mark is on an official visit to South Africa to deepen collaboration around science and innovation – one of the central pillars of the UK-South Africa Bilateral relationship.
Sir Mark was accompanied by Chris Lee, Head of International Space Policy at the UK Space Agency, and David Bestwick from Avanti Satellite Communications, one of SANSA's latest UK industry partners.
The MoU provides a framework for collaborative activities and for reviewing areas of common interests in the civil aspects of space and facilitates the interchange of information, technology and personnel.
Sir Mark Walport said: "I am delighted to sign this MoU on behalf of the UK Space Agency, which reflects the growing strength in collaboration in cutting edge science between our two countries. South Africa, and in particular SANSA, are key partners for the UK, with a range of new activities linking the UK and South African space industry partners under the UK's International Partnership Space Programme".
SANSA has been actively collaborating in various areas of space science research and infrastructure projects with the UK Space Agency and are encouraged by the support being shared through the commitment as part of this MoU. Dr Malinga, said" SANSA is currently collaborating with UKSA in space applications addressing climate change, the development of space weather models and planning infrastructure developments for space."
This MoU intends to achieve many aspects of collaboration for mutual benefit to our citizens. Areas covered in this document include making UKSA satellite data accessible to SADC users and SANSA being access point for NovaSar data in South Africa. The Agencies will explore research opportunities around space weather with the intention to building and sharing knowledge and capacity. Other focus areas include identifying opportunities for the collaboration between local and UK based commercial space industry and understanding the development of infrastructure and systems from the UK knowledge and experience.