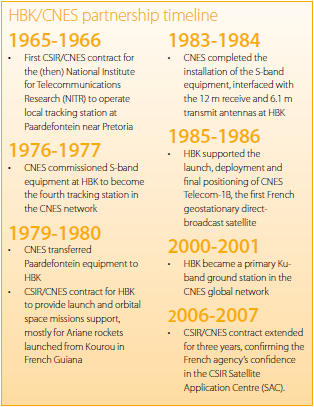 09 Apr

Enduring partnership with French space agency
The ongoing business relationship between the Hartebeesthoek tracking station and the French space agency, Centre Nationale'Etudes Spatiales(CNES) resulted in SANSA signing the largest space mission support contract yet with the French agency since the first contract in the early 1980s with the CSIR.
The initial agreement contract entailed tracking, telemetry and command (TT&C) support, primarily for the first French geostationary telecommunications satellite Telecom-1A, in late 1983 and thereafter for all CNES polar-orbiting and geostationary satellites.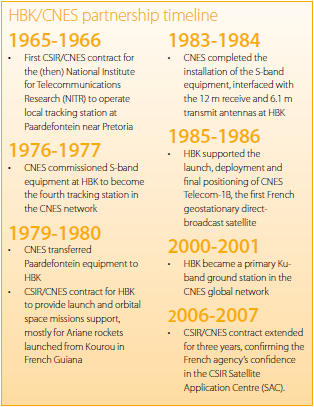 Negotiations with CNES last year to renew the current CNES/SANSA contract that ends in 2016, resulted in a new 10-year agreement, the largest yet signed between the partners, with the possibility of extending the contract for an additional 10 years until 2036. The new contract entails the installation, commissioning, hosting and maintenance of a new antenna at the SANSA Space Operations antenna farm.
Years back, Hbk became part of the CNES tracking station network because it met a number of important criteria: a favourable location on the African continent, a growing reputation for world-class performance, solid infrastructure, communications, roads networks, power supply and security and the technical proficiency of the HBK staff in all disciplines of space-related TT&C systems and equipment.
"In retrospect, the CNES relationship, initially with the CSIR and currently with SANSA, developed into an enduring partnership which enabled us to entrench our standing in the global space industry as a reliable partner in space mission support," says Tiaan Strydom, SANSA's Business Development Manager. "Now, more than 30 years after the first contract was signed, the relationship lives on."