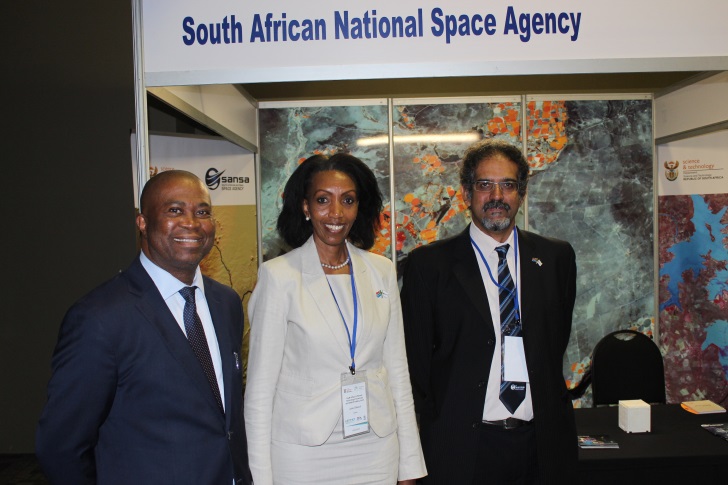 19 Feb

SANSA makes a compelling case for satellite data at the 2015 inaugural Innovation Bridge
SANSA took part in the 2015 inaugural Innovation Bridge at the CSIR International Convention Centre. This event, which was held on 2-3 February 2015, is an initiative of the Department of Science and Technology (DST) and aims to provide the first opportunity of its kind for national and international technology-based companies, technology entrepreneurs, investors, financiers and other technology commercialisation partners, to access the latest and best publicly funded technology offerings from South Africa's universities, science councils and companies supported by the Technology Innovation Agency (TIA).
Opening the event, the Minister of Science and Technology, Honourable Naledi Pandor, encouraged collaboration between government, the private sector and research institutions to promote local technologies for the service of the country's needs. "We need to implement our policies that favour South African-based technologies and local procurement," the Minister said.
Participating under the theme "Today's Earth Observation, a tool into the Future", Imraan Saloojee, Stakeholder Relations manager at SANSA Earth Observation, made a captivating three minutes pitch to showcase how data housed by SANSA can be used to stimulate the development of innovative information products and services that can support evidence based decision making and planning processes in both public and private institutions. SANSA through its participation was encouraging innovators and entrepreneurs to discover and exploit its close to 200Tb of data spanning close to 4 decades. This data provides a unique historical record of the geography of South Africa.
More than 38 organizations took part in the event, which included technology exhibitions and demonstrations, policy dialogues and plenary discussions, training sessions and one-on-one meeting opportunities where visitors and participants interacted directly with researchers and technology developers from research and development organisations.