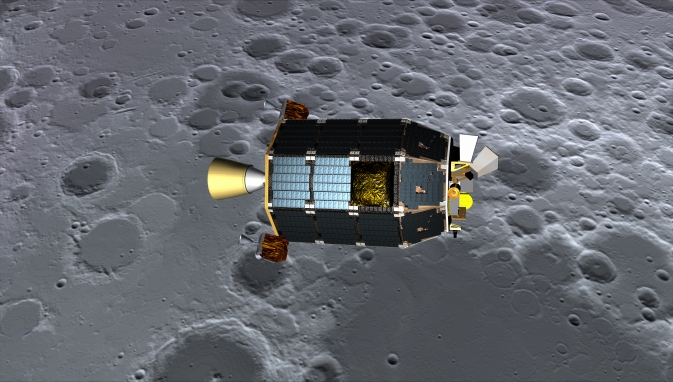 25 Apr

Final manoeuvres on NASA's LADEE performed from SA ground station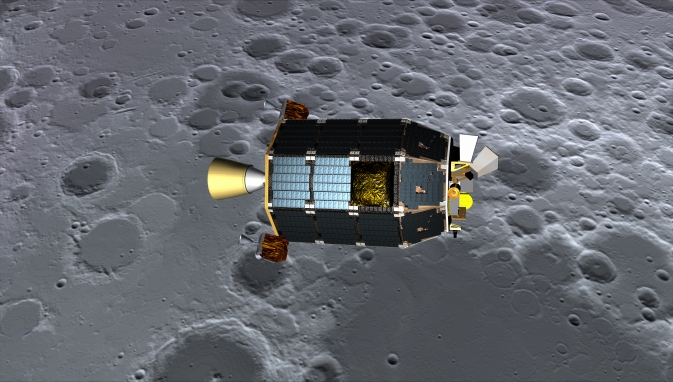 An artist's concept of NASA's Lunar Atmosphere and Dust Environment Explorer (LADEE) spacecraft seen orbiting near the surface of the moon.
Image Credit: NASA Ames/Dana Berry
Hartebeesthoek, 25 April 2014. It has been confirmed that NASA's Lunar Atmosphere and Dust Environment Explorer (LADEE) spacecraft impacted the Moon on 17 April 2014, following a number of final manoeuvres performed from the South African National Space Agency's (SANSA) Hartebeesthoek station.
"We have been supporting this mission since the date of launch," says Tiaan Strydom, International Business Manager at SANSA Space Operations. "Our team played an important role in providing various TT&C support services to the probe since launch in September 2013, with this coming to an end as the final manoeuvres were executed together with other ground stations, tasking the probe to deorbit," explains Strydom. This placed the LADEE into a trajectory to impact the far side of the moon.
One of the primary LADEE science objectives was to determine the global density, composition, and measure any spatial and temporal variability of the moon's fragile atmosphere. According to www.nasa.gov in addition, scientists hope to use the data to address a long-standing question: Was lunar dust, electrically charged by sunlight, responsible for the pre-sunrise glow seen above the lunar horizon during several Apollo missions?
The LADEE mission will extend the knowledge gained about the moon to inform man's understanding of the development of other planetary bodies in the inner solar system such as Mercury, Venus, Earth and Mars. As the most accessible planetary body besides Earth and as one that is thought to have changed little since its initial development (unlike Earth, Mars and Venus), the moon offers a unique look into the distant past of planetary evolution.
"We would like to consider ourselves as the leading ground station on the continent," adds Raoul Hodges, Managing Director at SANSA Space Operations. "Being part of such cutting-edge research and services proves that no mission is too big or too small for our capabilities," Hodges concludes.