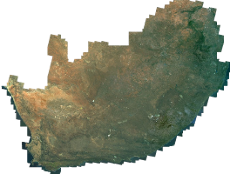 20 Jun

New mosaic aids in delivery by government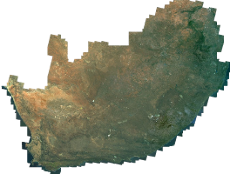 The latest SPOT 5 national mosaic for 2012 has been released at an event by the South African National Space Agency (SANSA) to key stakeholders in government departments and private industry for use in addressing national requirements.
The imagery which is collected over a period of 12 months is downloaded and processed by SANSA into the comprehensive tool which is delivered free to stakeholders who utilize this information to address issues facing South Africa, such as planning for infrastructure and housing, agriculture, water and environmental management and national census, amongst others.
Dr Jane Olwoch, MD of SANSA Earth Observation stated, "It is a significant achievement for SANSA to be able to provide a state-of-the-art product that brings huge impact to the lives of our citizens when used by our government stakeholders." The mosaic is made up of 485 images taken by the SPOT 5 satellite which has been processed and compiled to make up the entire map of the country. The detail within each of the tiles of the mosaic provides information of an area 60km by 60km.
"The information and data from SANSA have been used by the Department of Human settlements to understand urban spread and how to address the concern of informal settlements", said Aubrey Matshego, Department of Human settlements directorate: Spatial information at the launch of the mosaic.
The event was well supported by the stakeholders who endorsed the tool and applications within their scope of delivery. "SANSA remains committed to ensuring our products and services remain relevant and of the highest quality for the benefit of all South Africans. This mosaic forms part of the offering SANSA brings within the space science and technology realm in the country." said Dr Sandile Malinga, CEO of SANSA.
The national mosaic has seen many improvements since its inception in 2006 and SANSA has now secured agreements with Astrium (suppliers of SPOT imagery) to acquire SPOT 6 & 7 data which offers even higher resolution images (1,5m spatial resolution). Users are also able to access the SANSA Earth observation catalogue which contains SPOT 5 and many other satellite imagery from the data archive.
Anneliza Collett from the Department of Agriculture, Forestry and Fisheries raised the value of using SPOT 5 data in an environment which is challenged by human and financial constrictions in addressing the problems faced by the agricultural sector.
SANSA is also committed to developing the skills and capacity within government departments in order to address the skills shortage within them and encourage young people to take up these careers in GIS. The agency does this through internships and training workshops to stakeholders.